Jimmy Butler put up 28 points to lead the Miami Heat to a 103-84 Game 7 win over Celtics and spot in NBA Finals.
The Boston Celtics tried to do something that had never been done before, overturn a 3-0 deficit in an NBA Playoff series.
While they deserve a ton of credit for even making it to Game 7, they ran out of gas in the end.
Butler drives Miami on
Jimmy Butler found his hot hand again and delivered 28 points, 7 rebounds, and 6 assists while Caleb Martin helped the Heat's cause with 26 points and 10 rebounds.
Unfortunately for Boston, their two stars chose the worst possible night to be awful. Jaylen Brown and Jayson Tatum combined for 32 points and the rest of the Celtics team basically fell apart.
"We failed. I failed and we let the whole city down," Brown said. "In spite of whatever circumstance we had this year, we rose to the occasion. We got to this point and we came up short."
The Heat advance to the NBA Finals to take on the overwhelming favourites, the Denver Nuggets.
Related content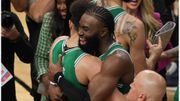 The Boston Celtics have come back from 3-0 to tie 3-3 going to Game 7 against the Miami Heat.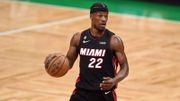 The Miami Heat failed to close the Eastern Conference Finals on Thursday night as the Celtics came away with a 110-97 win to force Game 6.