Watch Kamaru Usman talks about African fans turning up for his trilogy fight against Leon Edwards.
Nigerian-American professional mixed martial artist Kamarudeen Usman has detailed his excitement to fight in London for the first time.
Usman takes on English professional mixed martial artist Leon Edwards in his next Ultimate Fighting Championship (UFC) challenge.
Usman has talked about his need to remind Edwards of his place when they face off for the third time in the UFC.
Usman excited to fight Edwards in London
The latest episode of the Anatomy of a Fighter on the official Kamaru Usman YouTube channel explains the motivation for the trilogy.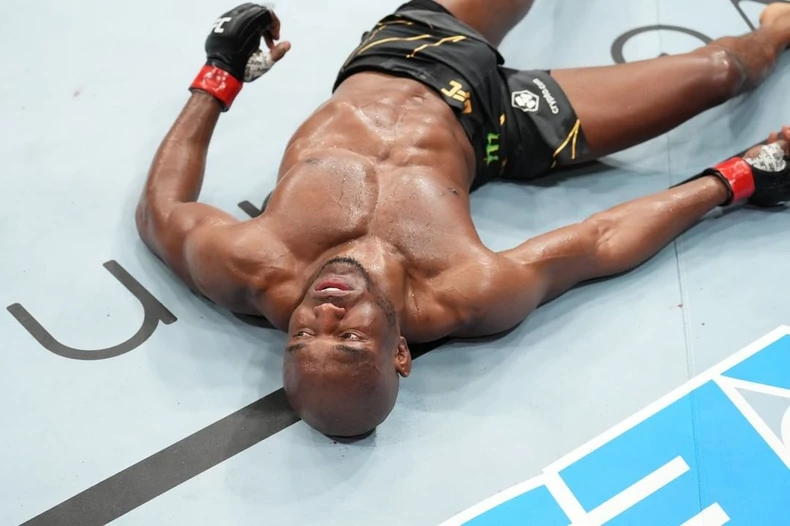 Usman departed the Denver International Airport in the United States of America (USA) to the Heathrow Airport in London, England.
The Nigerian Nightmare tried out a new accent as he landed in London with his crew.
Usman and his team went to the gym and in the video, he explained his excitement fighting for the first time in the United Kingdom.
He said, "I've always wanted to come here and fight I have a tremendous amount of fans here.
"African fans, English fans, I have a tremendous amount of just mixed fans Indian fans all around who constantly begged me and messaged me or tweet at me to visit the UK or come and put on something or do something for them here in the UK.
"They would love to see me and interact with me and it just never worked out and after this this fight yes of course.
"I could have waited and said all right let's do it in Vegas or anything like that but no it was a perfect opportunity to come here.
"It just adds to the story you know we've never given the UK an event like this to where they have a champion and his prime fighting a former Champion."
Usman and Edwards headline UFC 286 at the O2 Arena in London on Saturday, March 18, 2023.
Related content