Kylian Mbappe has spoken about his future at PSG with Real Madrid believed to be circling the French superstar
Paris Saint-Germain forward Kylian Mbappe has confirmed his plans for next season after being named Ligue 1's player of the season for the 2022/23 season.
Mbappe wins Ligue 1 Player of the Year
The France international won the award at the UNFP gala ahead of teammate Lionel Messi, as well as Lens' duo of Lois Openda and Seko Fofana and Lille's Jonathan David, and spoke after the gala about where he will be playing his football next season.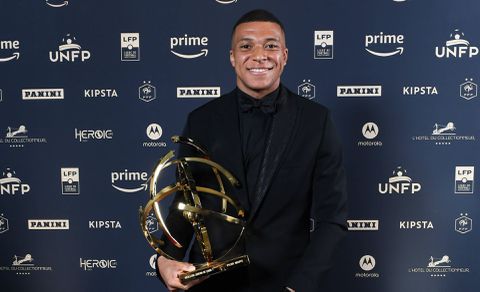 Mbappe became PSG's all-time top scorer this season after breaking the 201-goal barrier with a goal against Nantes but the Frenchman's continuity has come into doubt in recent weeks following turmoil in Paris, with the club presumed to be underachieving by their standards.
PSG won their 11th Ligue 1 title this season, a competition record, but they have been plagued by embarrassing exits at early stages in the UEFA Champions League in recent seasons, leading to dissatisfaction among Les Parisiens' chiefs, players, and fans.
Mbappe opens up about future plans
The continued underachievement has led to doubts over the futures of key players like Mbappe, and after winning the Ligue 1 Player of the Year crown for the fourth time in a row, the France international had a few things to say about that.
Speaking after the event, Mbappe said, "Next year I will play at Paris Saint-Germain, I still have a contract, I will honour my contract."
After scoring 28 times in the league already this season, Mbappe is expected to win the Ligue 1 golden boot in addition to his Player of the Year award, and PSG are believed to have him at the core of a major rebuild of the squad starting next season.
Related content