Lionel Messi and Argentina were caged, with the football great described as a wrestler after an incident against Uruguay.
Argentine great Lionel Messi has found himself at the centre of a controversy that has left fans around the world shocked and in disbelief during the gripping clash against rivals Uruguay.
Messi narrowly escaped a red card following a heated altercation in Argentina's 2-0 defeat at home in the FIFA World Cup qualifier in the early hours of Friday.
Messi chokes Uruguay star
The match between Argentina and Uruguay was keenly anticipated, especially for the visitors who were looking to close the gap between them and the world champions.
However, the match took a twist when tensions rose in the physically demanding after a pivotal incident between Messi and substitute, Giovanni Lo Celso.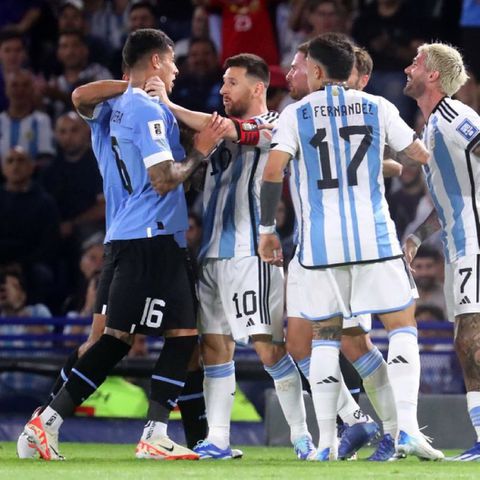 The Ballon d'Or winner found himself entangled in a heated confrontation which saw him chokeslam the former Tottenham player following an altercation between the teams.
That incident has now become a key talking amount for fans, who have taken to social media to express shock that the Barcelona great was not punished by the referee.
Social media platforms have lit up with debates about the issue, with some questioning Messi's behaviour and faux-humility.
Here are some of the reactions from micro-blogging platform, X.com.







Uruguay ends Argentina's record
Meanwhile, it was a day to forget for the World champions, Argentina, who suffered double heartbreak.
The Messi-led champions were 2–0 losers on the day to Uruguay, with goals from Darwin Nunez and Ronald Araujo.
Argentina lost for the first time in the 2026 FIFA World Cup qualifiers, with their visitors also putting an end to their impressive 25-match unbeaten streak in the qualifiers.
Related content