Bronny James Jr. is an American basketball player and the eldest child of NBA and Los Angeles Laker star LeBron James. He currently plays college basketball for the USC Trojans of the Pac-12 Conference as a point guard and shooting guard. He was named a McDonald's All-American as a senior in high school in 2023 and is a consensus four-star recruit.
ESPN NBA draft analyst Jonathan Givony mentioned in 2023 that Bronny was developing into one of the top perimeter defenders in his class. His playing style has also drawn comparisons to Lonzo Ball and De'Anthony Melton.
Bronny's favorite player is LA Lakers point guard Russell Westbrook, which is why he wore the number 0 jersey. However, he switched to the number 6 jersey upon joining USC in honor of his father.
Bronny James profile summary
Full name: LeBron Raymone James Jr.
Gender: Male
Date of birth: October 6, 2004
Age: 18 years (as of September 2023)
Place of birth: Cleveland, Ohio, U.S.
Current residence: Brentwood, Los Angeles, USA.
Nationality: American
Ethnicity: Black
Religion: Christianity
Height: "6'3"(191cm)
Weight: 82 kg (180 lbs)
Hair color: black
Eye color: black
Father: Lebron James
Mother: Savannah James
Siblings: Bryce Maximus (brother), Zhuri James (sister)
Education: Sierra Canyon School, University of Southern California
Positions: point guard and shooting guard
Jersey number: 6
Current team: USC Trojans
Net worth: $10 million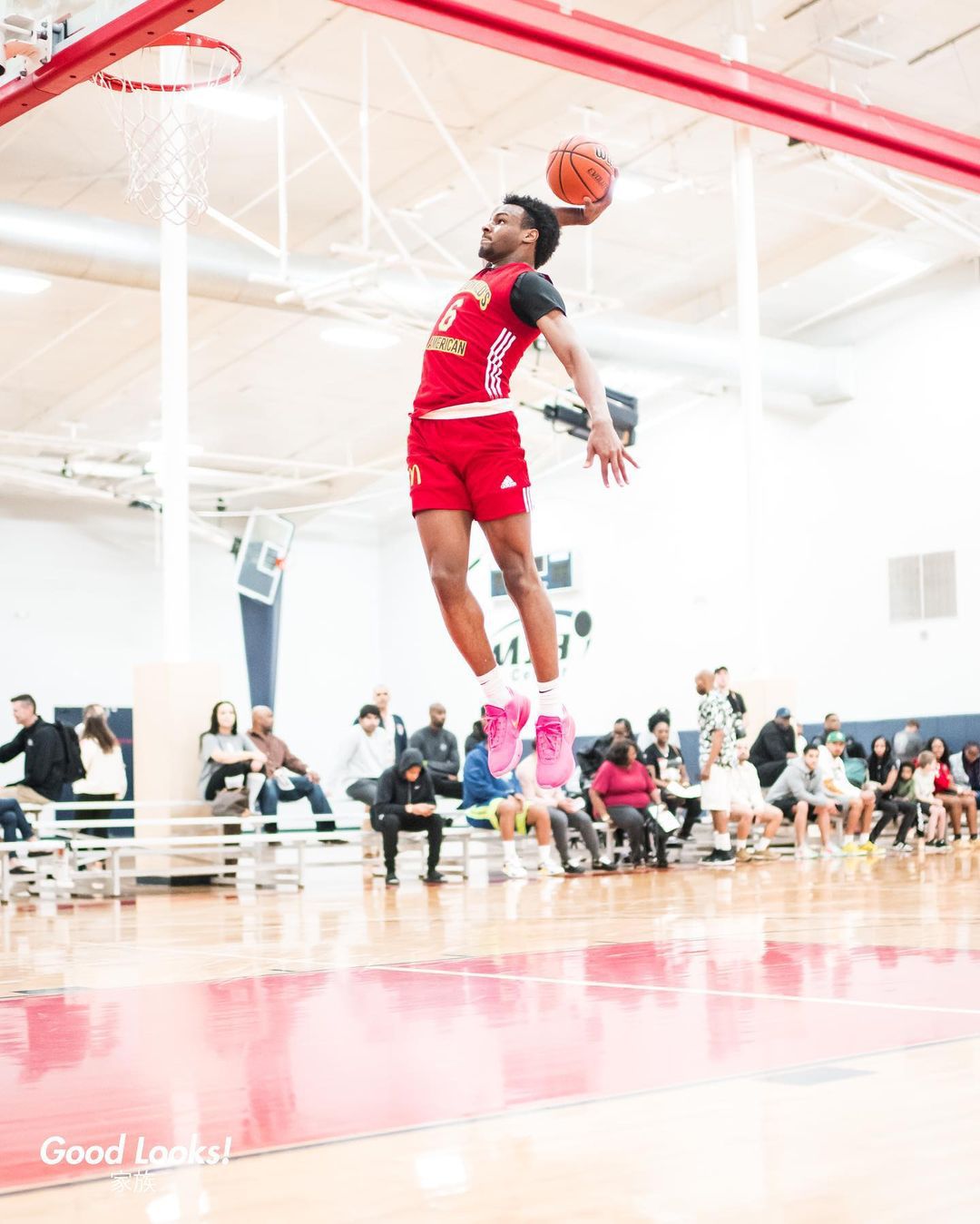 Bronny James' bio
Bronny James is the son of famous NBA and LA Lakers star LeBron James. His mother is Savannah Brinson, who was once a softball player and cheerleader. His father was only 19, while his mother was only 18 years old when he was born, and they both hail from Akron, Ohio. They have been together since high school and eventually got married in 2013 after giving birth to two other children along with Bronny: Bronny's kid brother, Bryce Maximus James, and his kid sister, Zhuri James.
Bronny James' age
The USC Trojans player was born on October 6, 2004, in Cleveland, USA, and is 18 years old as of September 2023.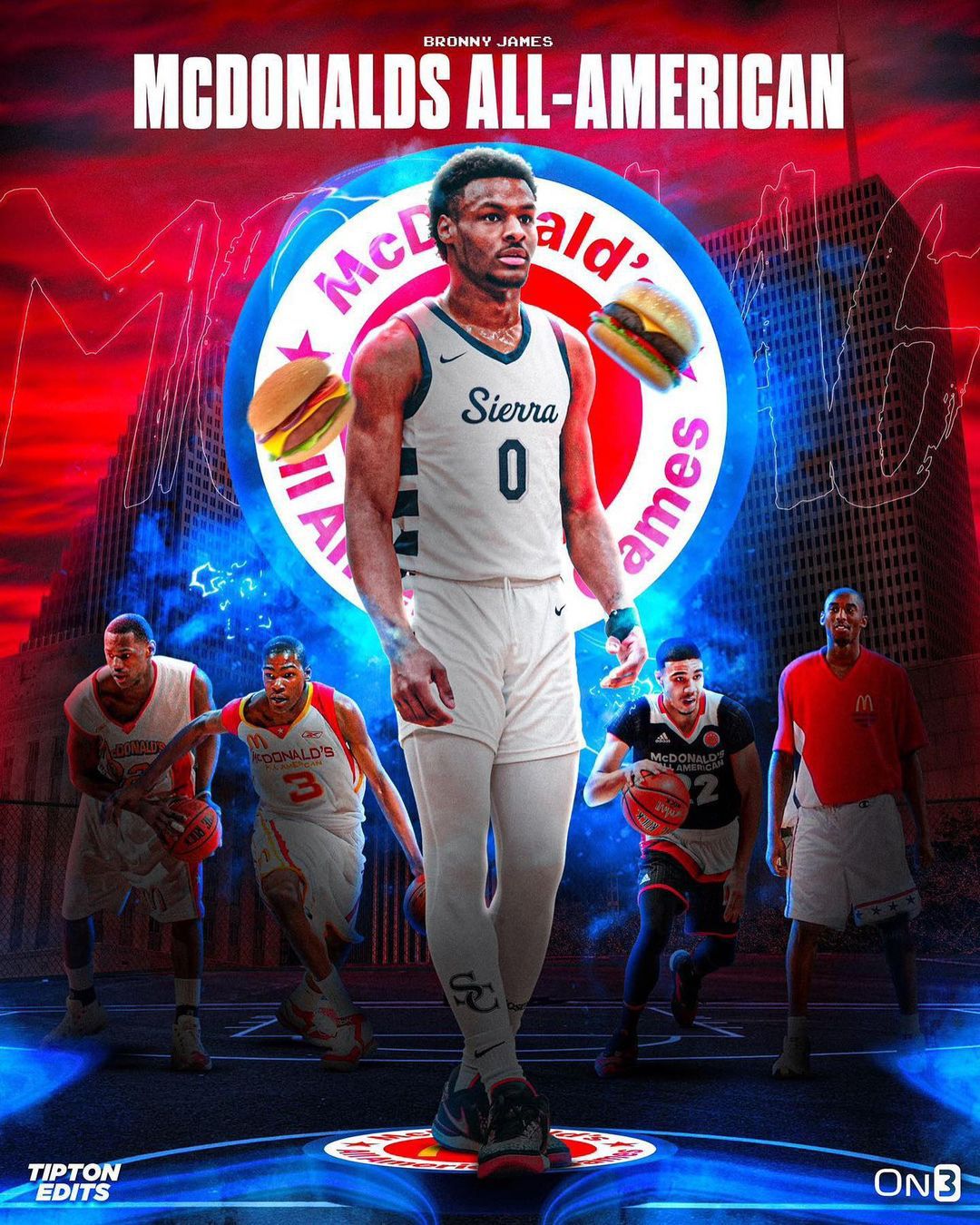 Bronny James' height, weight, and body measurements
Bronny is 6 feet 2 inches tall and weighs 80kg. His body measurements are 34-28-33 inches for his chest, waist, and hips.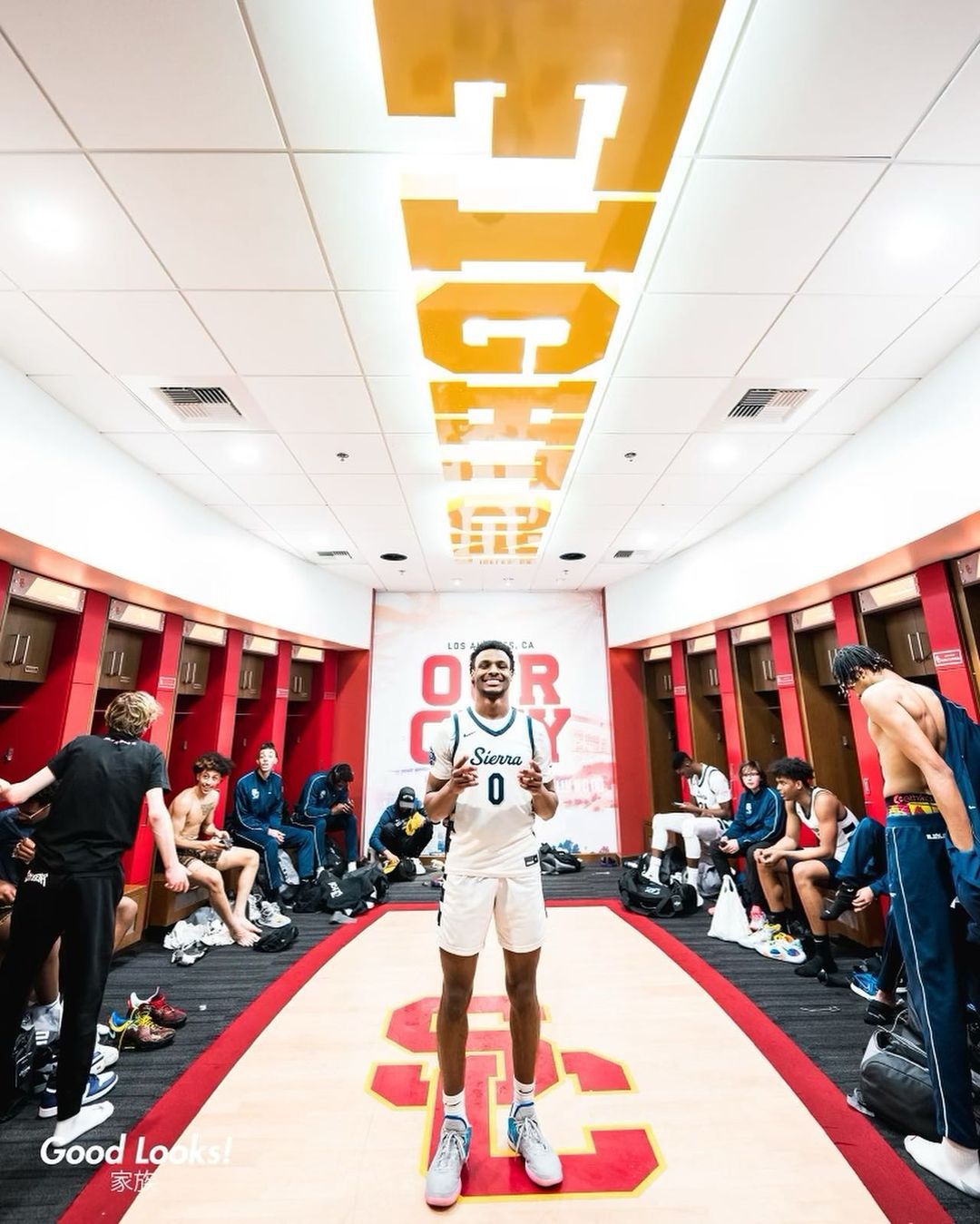 Bronny James' draft
According to the current rules of the NBA, a player cannot declare for the draft directly after high school and has to play at least one year of college basketball or one year of organized basketball (overseas or another league) after completing high school. With this in mind, Bronny could not be drafted directly into the NBA after high school, which made him choose to join the USC Trojans of the University of South California.
However, the USC Trojan player is projected to be a mid- to late-first-round pick in the 2024 NBA Draft.
Bronny James' ranking
While Bronny might not be the highest-ranked player in his set, he is arguably the most popular in his set. His first recruit ranking came before his sophomore season, when 247Sports and ESPN rated him a four-star recruit and a top-30 player in the 2023 class.
At the early stage of his junior season, Bronny fell to 52nd and 49th in rankings by 247Sports and ESPN, respectively, while dropping 31 spots to number 60 in rankings by Rivals in June 2022. However, in his senior season, he rose in rankings across the board.
Bronny James' offers
By 2015, Bronny had started receiving scholarship offers and letters of interest from college basketball programs. He was just 10 years old at the time, which led to his father saying, "It should be a violation. You shouldn't be recruiting 10-year-old kids." ESPN reported in 2016 that Bronny had offers from Duke and Kentucky.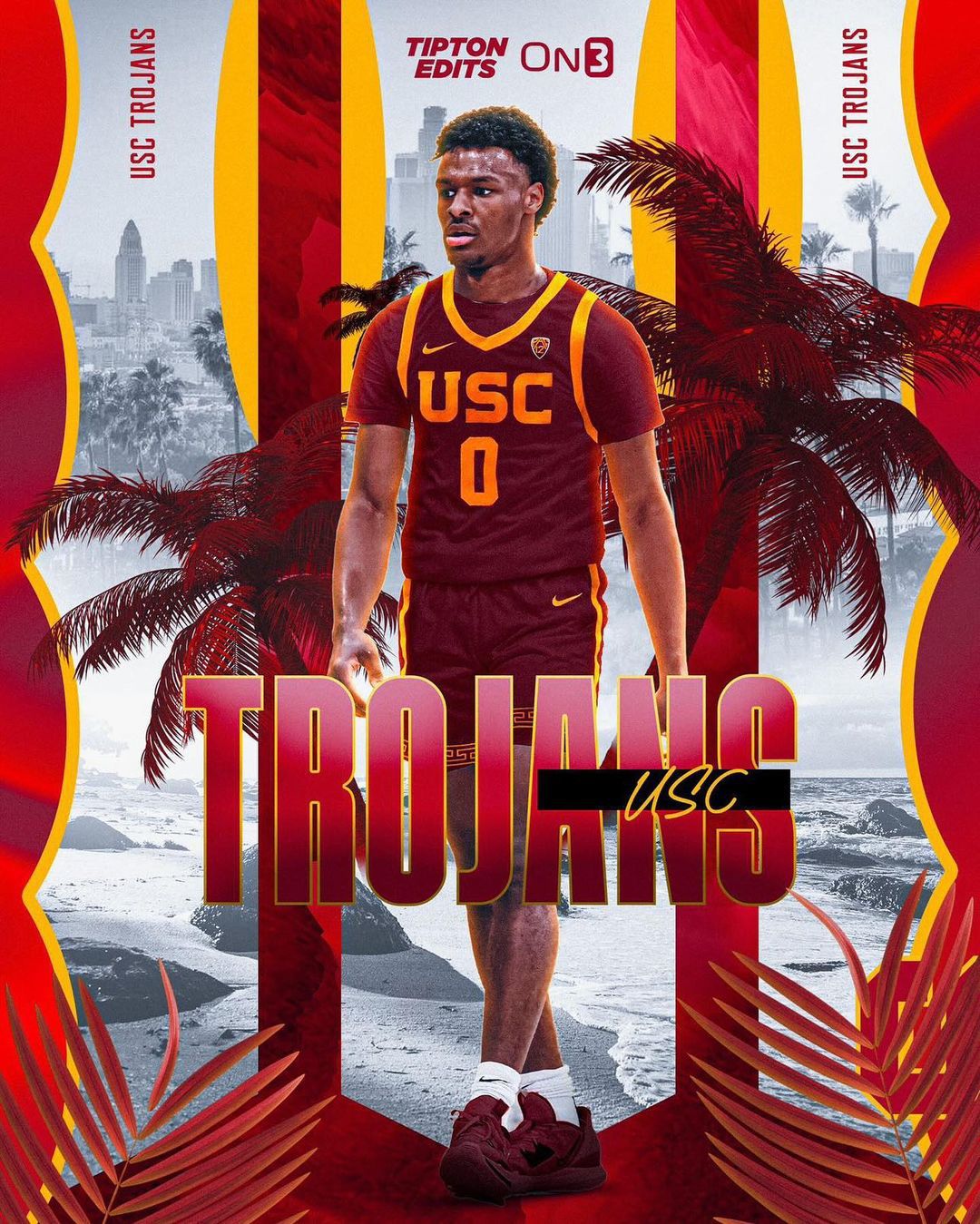 Bronny James' college
The Los Angeles Times reported on January 17, 2023, that Bronny had to make a choice between attending college at Ohio State, Oregon, or USC. By May 6, 2023, the upcoming star had announced his commitment to USC.
Bronny James' stats
Bronny played high school basketball with Sierra Canyon for four years, where he was an all-combo guard. As a freshman, he played in all 34 games, scoring 4.1 points per game.
After missing most of his sophomore year due to a knee injury, he returned in his junior year, leading Sierra Canyon to the regional final with 8.8 points, 3.3 rebounds, 2.8 assists, and 1.9 steals per game. In his senior year, his numbers improved to 14.2 points, 5.5 rebounds, 2.4 assists, and 1.8 steals per game. His senior numbers earned him a spot in the McDonald's All-American Game.
Bronny James' net worth
Bronny's net worth is estimated to be about $10 million as of 2023. However, there is no verifiable source to confirm his earnings as of September 2023.
Bronny James' heart
In July 2023, Bronny suffered a cardiac arrest during a basketball practice with the USC Trojans and was hospitalized. He was discharged a few days later to recover at home.
According to a family statement, "It is an anatomically and functionally significant congenital heart defect which can and will be treated." "We are very confident in Bronny's full recovery and return to basketball in the very near future. We will continue to provide updates to the media and respectfully reiterate the family's request for privacy," they added.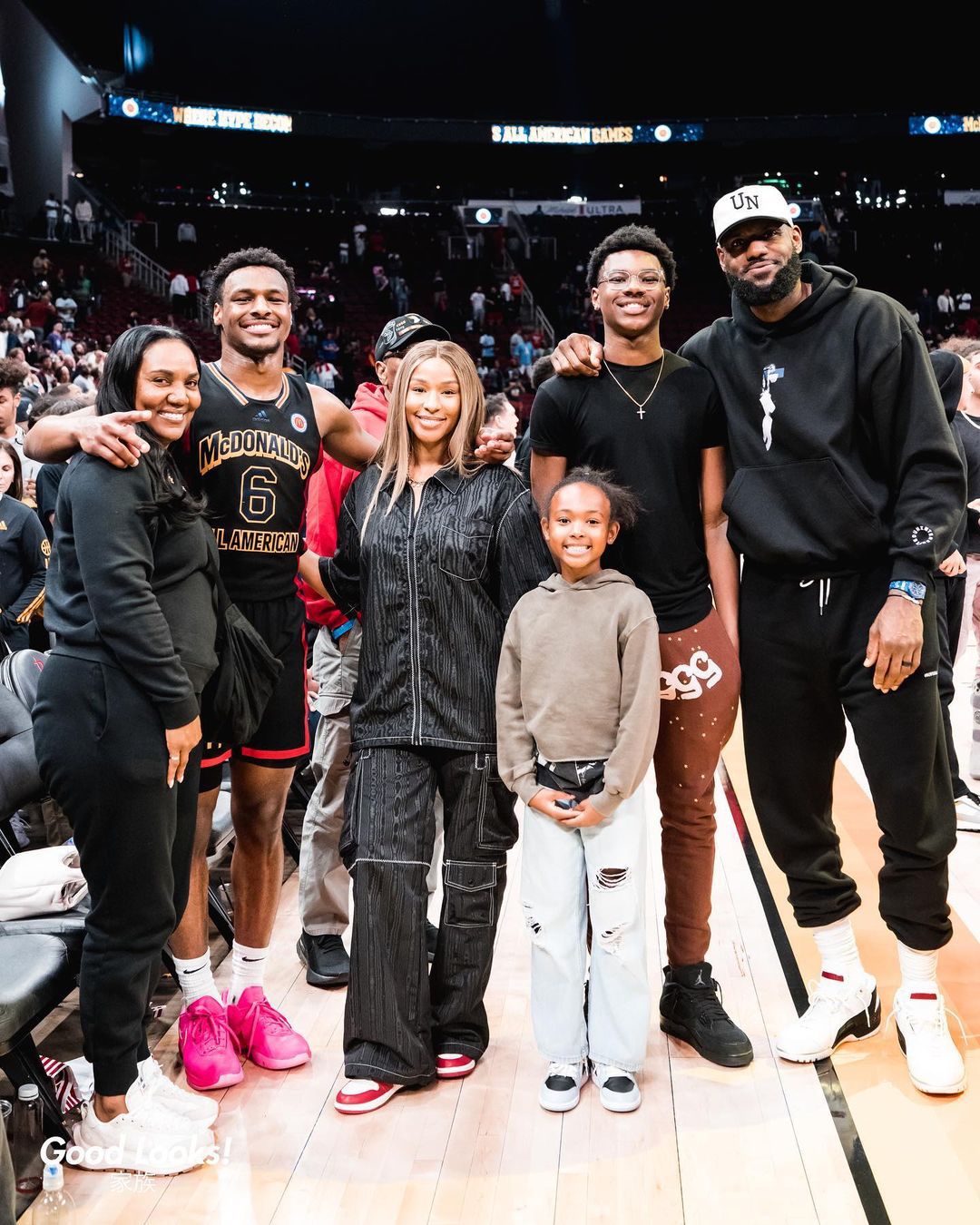 Can Bronny James still play basketball?
It is unclear if and when Bronny will return to the basketball court. He missed the Trojans' first preseason practice, but his family and coaches expect him to play basketball again. He resumed public appearances in July 2023, as he was seen with his parents and siblings at the Giorgio Baldi Italian restaurant in Santa Monica, California.
Bronny's teammate, Vincent Iwuchukwu, also suffered a cardiac arrest in 2022 but was eventually cleared to play in the spring of the same season after a defibrillator device was implanted in his chest, featuring in 14 games. His case serves as a point of encouragement that Bronny can still play basketball.
Bronny James' girlfriend
Bronny's girlfriend is Peyton Gelfuso. Bronny and Peyton met while they were students at Sierra Canyon School. Peyton graduated a year before Bronny and enrolled at Southern Methodist University. Peyton is also a sportsperson, as she played volleyball, tennis, and soccer for Sierra Canyon.
Bronny James' Instagram
Bronny James has 7.6 million followers on Instagram as of September 2023.