Osimhen is currently unhappy at Napoli after the Italian champions trolled him on their social media account.
Former Super Eagles captain Sunday Oliseh has urged his countryman Victor Osimhen to leave Napoli club as soon as possible.
Osimhen is unhappy at the Diego Armando Maradona Stadium after the Italian champions trolled him on their TikTok account.
Osimhen unhappy with Napoli's TikTok post
Napoli made headlines this week after their TikTok account mocked Osimhen for his penalty miss in the goalless draw against Bologna last Sunday.
Osimhen had the chance to give the Serie A champions a win from the spot on Sunday, but fluffed his lines, sending his kick wide.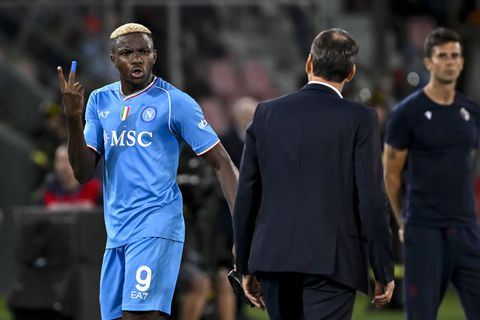 But, strangely, Napoli thought it was a good idea to use that to mock the Nigerian on their TikTok account.
The TikTok account also compared Osimhen's head to a coconut in another post mocking his hairstyle.
The two videos drew controversy, as expected, with many saying Napoli disrespected a man who spearheaded their first Serie A title in 33 years. The news has now caught the attention of Oliseh, who has urged to Osimhen to leave Napoli as soon as possible.
Ex-Juventus star Oliseh advises Osimhen to leave Napoli
Oliseh, who played in Italy with Juventus during his career, says Osimhen should not let ingrates and racists affect him, but he needs to leave Naples. The former Super Eagles captain said this on his official Twitter/X account.
Oliseh said: Forever proud to be Nigerian; One must show personality, work hard & refuse to be intimidated. let Racists and ingrates talk! That's why they are eternal losers who secretly wish they were created like you! Osimhen needs to leave Napoli as soon as yesterday!!.
Osimhen was linked with a move away from Napoli last summer but stayed at the club. However, with the latest development, the Nigerian could leave the club in January or next summer.
Osimhen still has one year and nine months left on his contract at Napoli after joining the club from Lille on a five-year deal for €75m in 2020.
Related content