Osimhen achieved the highest-ever finish by a Nigerian in the Ballon d'Or ranking, but does that make him a Super Eagles great?
Before this year, it had been 24 years since a Nigerian finished in the top 30 of the Ballon d'Or ranking.
However, that changed on October 30, 2023, at the magnificent Theatre du Chatelet in Paris, France, as Victor Osimhen finished in the top ten, ending in eighth position.
Osimhen deserved Ballon d'Or ranking
It was the highest-ever finish by a Nigerian since France Football started giving out the award to non-Europeans
Although Kanu Nwankwo finished sixth at the FIFA World Player of the Year in 1996, there was no merger then, even though it lasted for just five years (2010-2015).
Kanu did finish 11th in the Ballon d'Or ranking in 1996, and that was the highest finish by a Nigerian until Osimhen's eighth-place finish.
Osimhen's position was deserving, although one could even argue that he should have finished higher after an incredible year.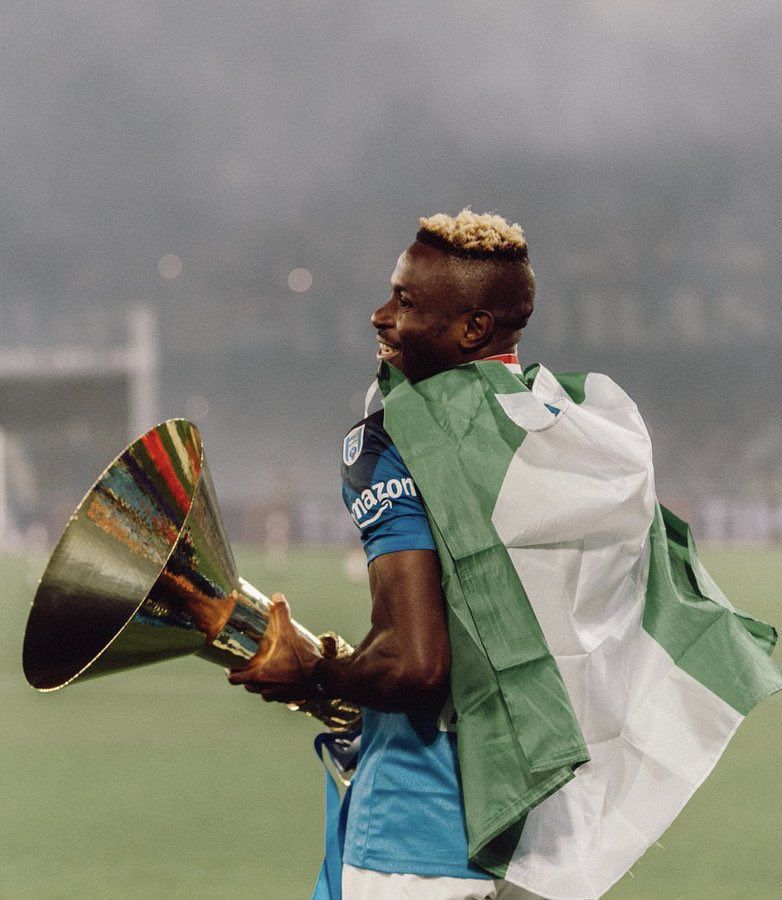 The Super Eagles star made history for his club, Napoli, last season, helping them to their first league title in 33 years.
Osimhen spearheaded the success after scoring 26 goals in 31 league games, winning the Capocannoniere Award in the process.
Considering everything he did last season, his position in the Ballon d'Or ranking is the perfect reward for him, especially after he lost the Serie A MVP to his partner in crime, Khvicha Kvaratskhelia.
Osimhen's feat was celebrated by Nigerians on social media, including the Super Eagles' official accounts.
Osimhen is not a Nigerian great yet
But while his feat deserves to be celebrated, does it make him a Nigerian legend or great? This is a tricky question to answer because despite the abundance of talent the country has produced in the past, there has not been a Super Eagles player who reached Osimhen's level individually.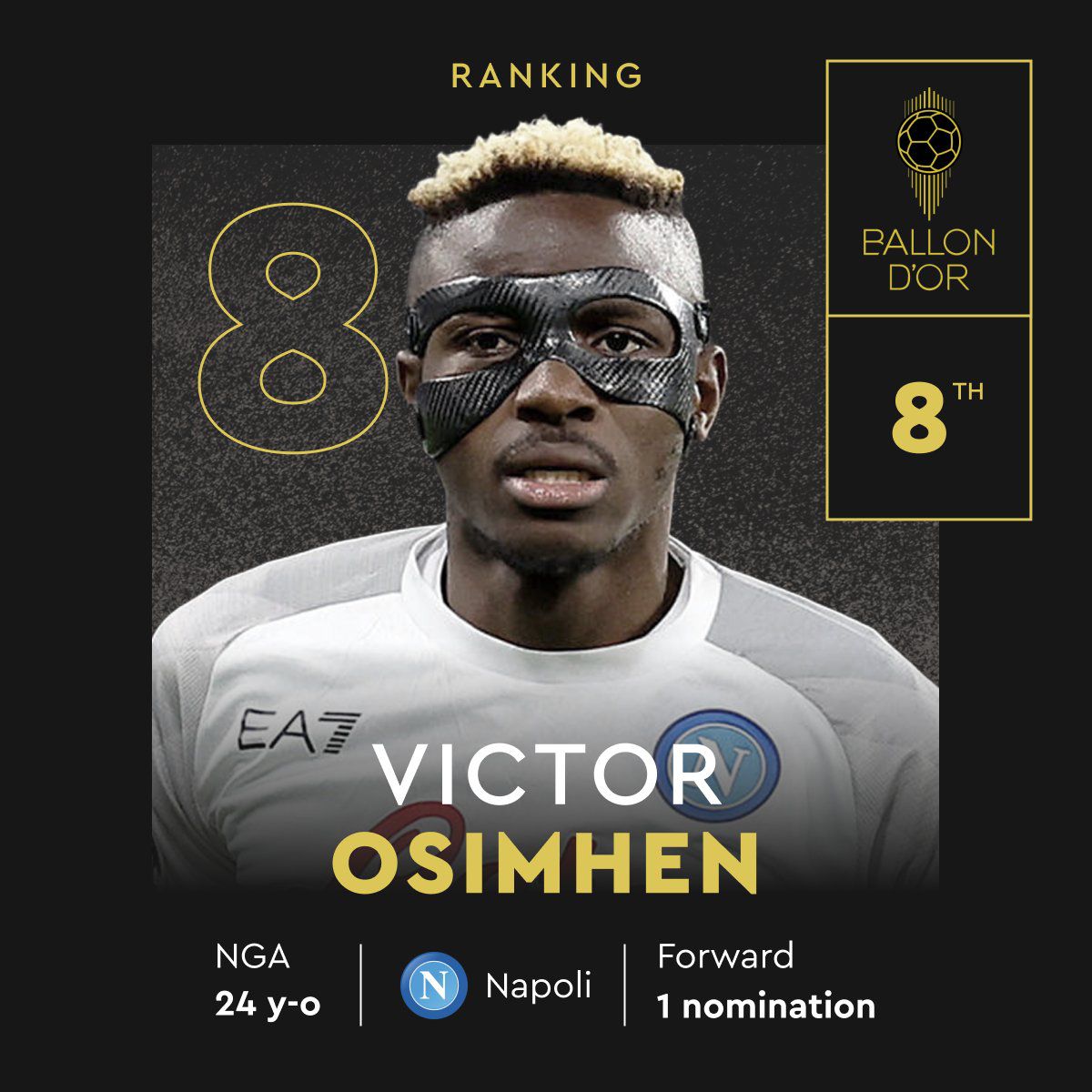 The 24-year-old scored 26 league goals last season, the highest number of goals scored by a Nigerian in a single campaign in Europe's top five leagues.
Not only that, but Osimhen was the main man in a title-winning squad of a team in Europe's top five leagues.
No Nigerian player ever reached that status, not even the great Kanu Nwankwo. Although Kanu has more trophies in his collection than Osimhen, he was never the main guy in all the clubs he represented.
However, while Osimhen is at the level no Nigerian player has ever reached, he still has a long way to go before he is called a Nigerian legend or great.
This is because he has not done anything notable with the Super Eagles squad. Aside from the World U-17 title he won with the Golden Eaglets in 2015, Osimhen has not had any considerable success with Nigeria.
The former Lille star has only played 45 minutes of football with the Super Eagles at the Africa Cup of Nations and has not played for the country at a FIFA World Cup.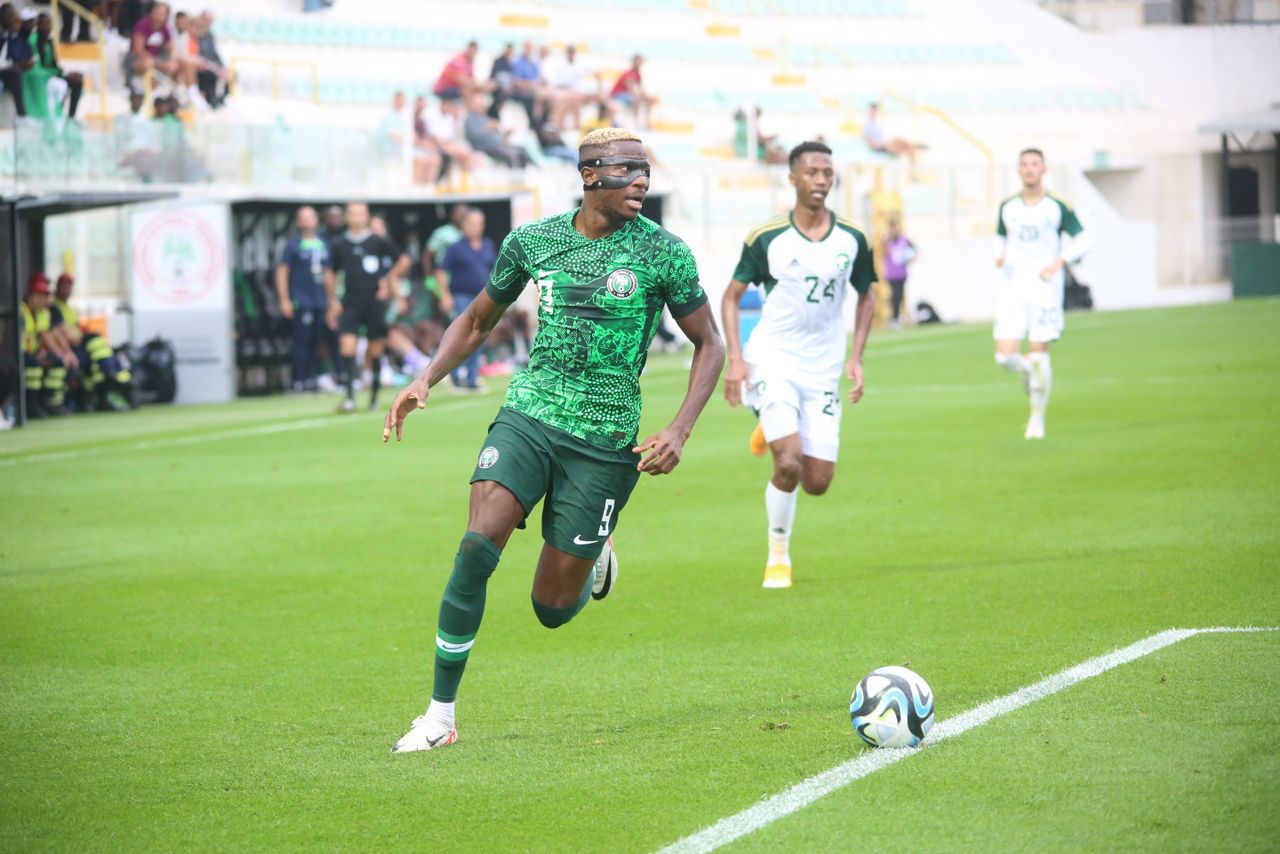 Osimhen's only major tournament with Nigeria was the 2019 AFCON, playing just 45 minutes of the third-place match against Tunisia.
It is difficult to say a player is a Nigerian great or legend without any meaningful moments with the Super Eagles, irrespective of what he has achieved at the club level or individually.
Although Osimhen is currently the fourth-highest goalscorer in Super Eagles history and is on course to beat Yekini's haul, he needs more to be a Nigerian legend or great.
The Napoli star needs to play in multiple major tournaments with Nigeria, including the FIFA World Cup.
He needs to announce himself in these competitions, although not necessarily win, because only a few players have won something major with the Super Eagles.
However, every player many Nigerians refer to or see as a great or legend represented the country at major tournaments.
This is something Osimhen needs not just to aim for but also to create memorable moments for Nigerians in these competitions.
While some could argue that Osimhen does not need these things to be considered a Nigerian great, given someone like Kanu did not win any major competition with the Super Eagles, Kanu did give Nigerians arguably the greatest day of their lives at the Atlanta 1996 Olympics.
Not only that, but Kanu also stood out for Nigeria at the AFCON, even though he never won or scored a goal in the competition.
Osimhen needs to create similar memorable moments with the Super Eagles in major tournaments for him to be in the upper class of Nigerian greats.
The Napoli star is almost there but needs to unlock a few milestones.
Related content