Betking has officially launched their new Virtual Jackpot Engine
Staying true to its oft-stated commitment to delivering only the best and most exciting products to their loyal customer base, leading sports betting and digital entertainment company Betking has officially launched their new Virtual Jackpot Engine.
The average Nigerian bettor will ALWAYS value a legit chance to win more money without taking any extra risks and this product provides that.
But how does it work?
BetKing's New Virtual Jackpot Engine Explained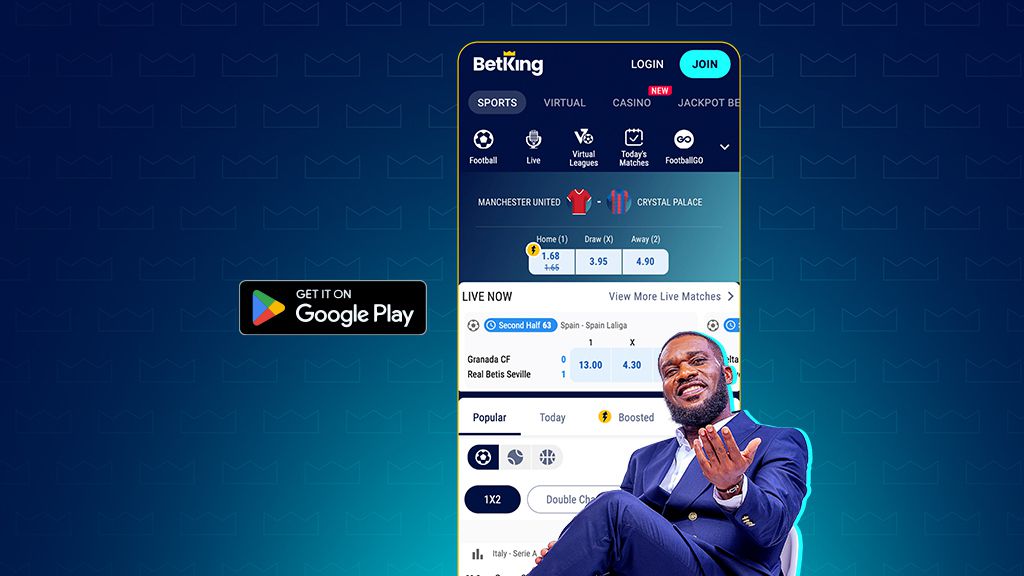 To clear up any confusion, BetKing's Virtual Jackpot is not to be confused with BetKing's Jackpot Bets.
While the latter is a product that gives you a chance to win as much as ₦5,000,000 from a ₦200 wager by making online sports betting tis, the former is attached to BetKing's Virtual Sports, and you automatically stand a chance to win ₦1,000,000 when you place a bet on any of the Virtual Scheduled Football Leagues.
How it works and what sets it apart from traditional Jackpot systems
When you place a bet on BetKing's Virtual Scheduled Football Leagues, Betking adds a self-funded percentage of that stake to the Virtual Jackpot prize pool, meaning that they never use the player's stake as jackpot contribution. The jackpot cycle starts at ₦100,000, and when the value exceeds ₦1,000,000, a lucky winner will be picked at random to claim the prize.  With BetKing's New Virtual Jackpot Engine, anybody who places a bet on Virtual Scheduled Leagues, regardless of what point in time the bet is placed during the jackpot cycle, has a fair chance of winning the jackpot prize.
Moreover, the more bets you play, the higher your chances of winning since each bet placed will grant you a "ticket" in a raffle-based jackpot prize give-away.
Nifty, eh?
Walkthrough: from signing up with BetKing to winning the Virtual Jackpot Grand Prize
Picture this scenario: you're on BetKing's landing page but still need a roadmap from there to winning the grand prize. How to navigate?
Follow these simple steps for a chance to win the Jackpot:
1. Sign into your BetKing account via the mobile website or the new android app. If you don't already have an account, sign up for a BetKing account.
2. Navigate to Virtual Games on the homepage and select any of the available Scheduled Football Leagues.
3. Make your picks, place your bet and that's it! You automatically get your chance to become the latest millionaire at no extra cost to you.
4. Cross your fingers and hope you're selected.
5. And if you aren't, remember that with BetKing, you can get through more cycles in less time and the more times you bet on the Scheduled Football Leagues, the higher your chances of being BetKing's Virtual Jackpot big winner.
How to Maximize your Bets on the Scheduled Leagues
Since the bets you're placing are on Scheduled Football League markets, here are some tips you can follow to maximize your chances of landing winning accas:
Exercise patience: It's important to observe for a while before placing your bets. This gives you a chance to familiarize yourself with the game mechanics and to discover any patterns that could be helpful to you. You can also improve your bet prediction by following BetKing's Blog for regular Virtual betting tips.
Optimize for acca bonus: Compared to other competitors, BetKing has a healthy virtual acca bonus of 40% which can boost your total win if you play your cards right. Find out more about how to ensure that your betslip qualifies for BetKing's massive virtual acca bonus and you're one step closer to that desired big win!
Strike a balance between clear-eyed pragmatism and indulging your superstitious side: Yes, the Scheduled Leagues are based on a Random Number Generator (RNG) that ensures the fairness of the game. This means that you should always do your due diligence to give yourself the best chance to win. However, the randomness of the game means that your wildest predictions could also come true. From time to time, you can choose to bet on a hunch and who knows? That could win you millions.
In conclusion, BetKing's new Virtual Jackpot Engine is a clear improvement on its predecessor and that of other competitors and you should definitely give it a try.
Sign up now to enjoy BetKing's high odds and all-round amazing service!