The 2023 NPFL Super 6 championship playoffs will kick off on Saturday, June 3.
With the regular season of the 2023 Nigeria Premier Football League (NPFL) now concluded, attention would turn to the most exciting part of the season: the Super 6 championship playoffs.
At the start of the 2023 season, the Interim Management Company (IMC) had confirmed the league was to run on an abridged format with two groups of 10 teams each, as opposed to the usual 38 league games season.
These teams were then to vie for the league's championship by first, qualifying from their groups for a super playoff, and then participating in as special round of elite matches.
The 2023 NPFL season, like the 2019 season, hold certain similarities as it was the last time the Nigerian top division had been decided in such format.
Additionally, both seasons also witnessed a January kickoff, with 2019's, running for 22 match weeks, as it had 24 teams as compared to 20 this year.
Prior to 2019, a super playoff had been used to decide the NPFL in both the 2007 and 2006 seasons, although on both occasions, only four (4) teams - two from each groups, had proceeded to the playoffs.
What teams had qualified for the Super 6 playoff in 2019?
Qualified from Group A
Rangers (1st)
Lobi Stars (2nd)
Enyimba (3rd)
Qualified from Group B
Akwa United
Kano Pillars
FC IfeanyiUbah
Who won the NPFL in 2019?
After the first stage of the season, all top three teams from both groups had proceeded to the playoff stage to decide the winner.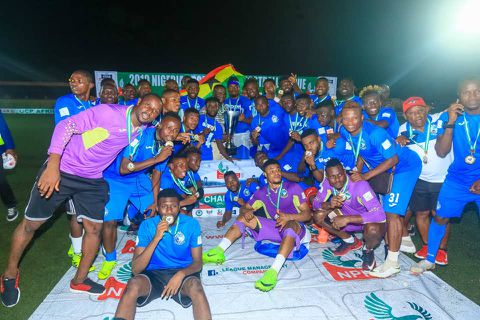 Played in a round-robin format, Enyimba finished top with 12 points after four wins and a defeat. The title was Enyimba's 8th - the most in Nigeria's history.
Kano Pillars finished in a close second, with Rangers, Akwa United, Lobi Stars and FC IfeanyiUbah coming in as third, fourth, fifth and sixth respectively.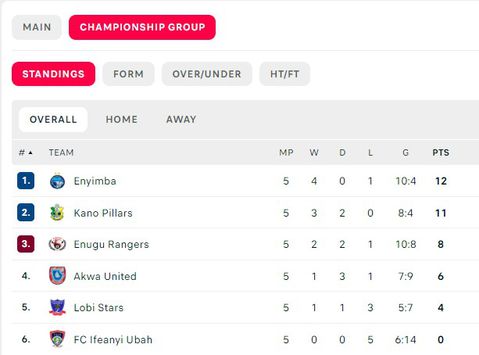 Repetitions occur in 2023 NPFL
In terms of close similarities between the 2019 season and the 2023 seasons, Enyimba had on both occasions finished as the third-best team in Group A to make the Super 6 playoff.
Also, the 2019 Super 6 comprised the team that was at the top of the league table at the end of the prior season - Lobi Stars. 2023's playoff will feature defending champions Rivers United, as one of the six.
Perhaps coincidental, but El Kanemi Warriors were one of the relegated teams in both seasons.
One notable repetition would be the 2023 NPFL Super 6 holding in the same city as it did in 2019: Lagos, although in a different stadium. According to the IMC, the 2023 NPFL Super 6 playoff would hold from Saturday, June 3 to Sunday, June 11 at the Mobolaji Johnson Arena in Lagos.
Related content