The Super Eagles of Nigeria were held to a 1-1 draw by Lesotho in Uyo and here is how the unfancied visitors made it happen.
The Super Eagles of Nigeria have begun their 2026 FIFA World Cup qualification journey on a disappointing note, drawing at home to Lesotho.
Nigeria came into this home fixture as the sixth-ranked team in Africa while visiting Lesotho are all the way down in number 46 on the CAF rankings making them by far the lowest-ranked team in this qualifying group which also houses South Africa, Benin Republic, Zimbabwe and Rwanda.
Hardly anyone gave Lesotho a chance to get anything out of this game as they had lost all four of their previous encounters with Nigeria without even scoring a goal, so why would this be any different?
A mixture of a disappointing display from Nigeria and a valiant performance by Lesotho led to an unprecedented 1-1 draw in Uyo and here is exactly how they did it.
1. Lesotho took their chances against the Super Eagles
Crazy as it might sound, Lesotho have a right to leave Uyo feeling like they could have won that game based on their performance.
Despite only having 28% possession and four goal attempts, Lesotho anticipated Nigeria's ball dominance and made their moments count when they had it.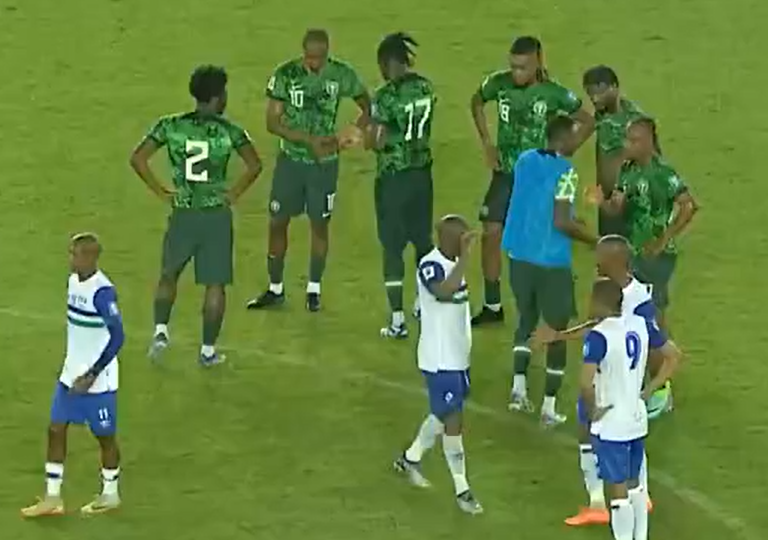 15 minutes into the game, they had the first meaningful shot of the game, forcing Uzoho into a great save from what was an incisive counterattack.
They broke at pace and picked out their paces with intent on that move, it was something that was clearly coached, credit to their manager Leslie Notsi.
Other than a wildly ballooned effort over the bar in the first half, Lesotho's shots were meaningful ones, forcing Uzoho into two great saves and scoring with another.
On the other hand, the Super Eagles were not clinical, passing up several opportunities and letting Lesotho off the hook multiple times.
2. Lesotho have a fantastic goalkeeper
Even though the Super Eagles missed chances, a lot of them were actually great saves by Sekhoane Moerane, the Lesotho goalkeeper and captain who had a stellar game.
Sekhoane made seven saves, five of which were in the first half to ensure the game was tied at the break and ultimately at full-time as well.
He thwarted Nigeria's first shot on target in the 21st minute, with a brilliant near-post save to deny Jamilu Collins who had been found brilliantly by a lovely pass from Ademola Lookman.
The 26-year-old shot-stopper came into this match with a growing reputation which he lived up to with another stunning save just before halftime, this time denying Ademola Lookman.
The Semi Ajayi header that beat him in the 67th minute was near-unstoppable and nothing could have been done about it, if there was, Sekhoane would probably have found a way to stop it.
3. The Super Eagles have a poor home record
The Super Eagles have been untrustworthy on home soil in recent years with just four wins from their last 10 games in Nigeria spanning the last three years, scoring 20 goals and conceding 10 in that period.
That run also includes four draws on home soil, most notably the 4-4 result in 2020 against Sierra Leone in which the visitors came back from four goals down to draw in Benin.
Another of those draws was 1-1 against Cape Verde in Lagos, another 1-1 in Abuja against Ghana which prevented Nigeria from qualifying for the 2022 FIFA World Cup and now 1-1 in Uyo against Lesotho.
Central Africa Republic and Guinea Bissau did one better, both winning 1-0 in Lagos and Abuja respectively in crucial AFCON qualifying games.
None of these disappointing results were friendlies, the Super Eagles have made it a habit to fail to win winnable competitive games at home and that is what happened once again against Lesotho.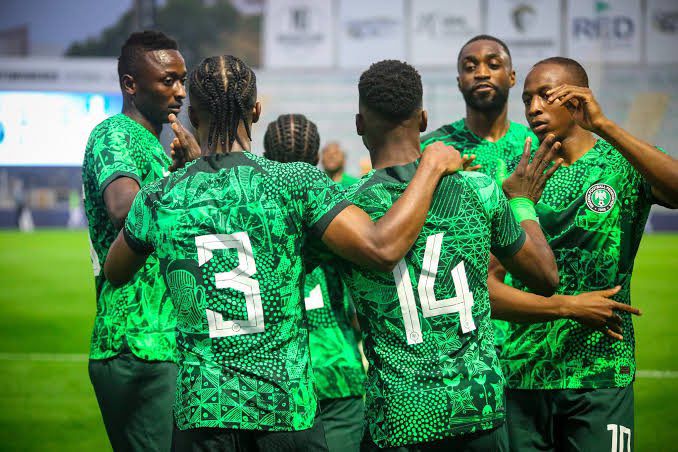 For comparison, the Super Eagles have not lost a competitive game away from home since January 2022, the round of 16 defeat at the last AFCON and the last away defeat before that also coming at the previous AFCON in 2019 against Algeria.
Nigeria have won nine and drawn two of their last 11 away qualifiers in Africa, scoring 25 goals and conceding just five in a run that spans the last four years.
The Super Eagles need to find their mojo and make Nigeria home again by playing with the same level of concentration and determination with which they prosecute away games.
Related content