Manchester United manager Erik Ten Hag wishes his team was as lucky as Arsenal, who usually have their players 'totally available'
Manchester United manager Erik Ten Hag has lamented the number of absentees his team has had to deal with over the course of the season while wishing he was like Arsenal, who have not had to deal with any significant injuries.
Ten Hag laments injury crisis
Ten Hag's Manchester United face Real Betis in the second leg of their UEFA Europa League round of 16 clash just a day after it was revealed that 18-year-old winger Alejandro Garnacho would be ruled out for the foreseeable future with an ankle injury.
The Dutch manager was keen to point out that absences like Garacho's were an unfortunate recurring theme for his side.
Speaking ahead of the Real Betis tie, Ten Hag said, "we have had only one game where I said, okay now I can pick my team because of a tactical approach that was perfect, and it was against Man City at home.
It was the only time this season, and other times, every time, in every game, it is [either] one player suspended, one player is injured [or] illness. So we have to deal with it.
Ten Hag hopes to be as injury-free as Arsenal
The EFL Cup winner then went on to compare his team's situation with that of Premier League rivals, Arsenal, who he claimed were in a much better position injury and suspension-wise, and who he hoped his club could emulate.
He said, "But of course, you can hope. Like you can see Arsenal, and almost all the time, their squad is totally available."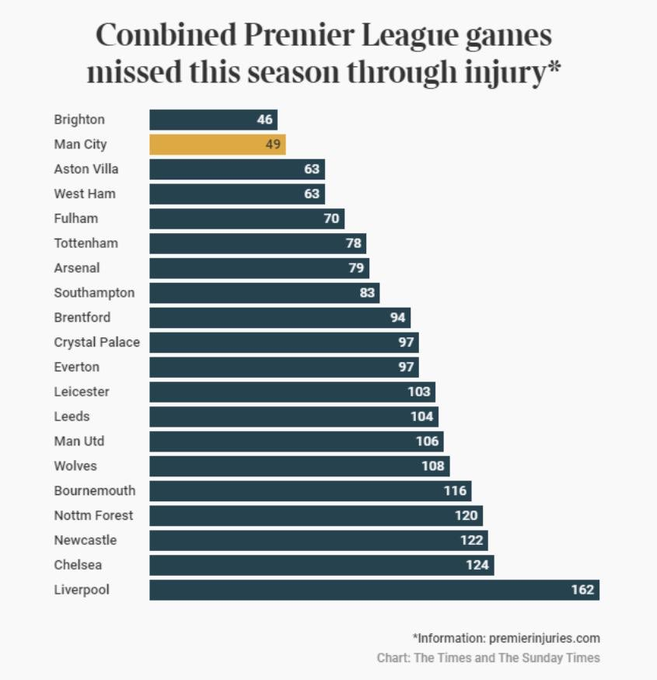 Ten Hag's might be criticised for his comments about Arsenal, given that the Gunners have sustained a title challenge despite a major injury to Gabriel Jesus, but his assertion is actually of merit since Manchester United have had players miss 27 more days due to injury than Arsenal.
Related content