The happiness in the picture says it all as Elaine Thompson-Herah gets to work with Shelly-Ann Fraser-Pryce's coach Reynaldo Walcott.
The world's fastest woman alive, Elaine Thompson-Herah is obviously in her happiest mood following the announcement of Reynaldo Walcott of Elite Performance Track Club as her new coach.
Thompson-Herah's management, Andi Sports Management made the official announcement in a press release, stating her readiness to work towards defending her Olympic titles in Paris next year.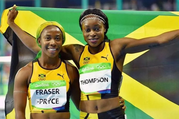 No more coaching problems for Elaine Thompson-Herah as Andi Sports Management confirms the appointment of coach Reynaldo Walcott.
With the news being confirmed, the Jamaican track icon posted a jaw-dropping happy picture on her social media pages with the caption:
"Out of difficulties grow miracles. Happy Monday 😃"
The confirmation of coach Walcott is coming after the sour end to the relationship with coach Shaneika Osbourne, which led to them parting ways because they couldn't agree on negotiations.
This situation has been an online controversy in the past few weeks, with many believing her split from Osbourne was a bad move, considering it's just less than a year before the start of the Paris Olympics.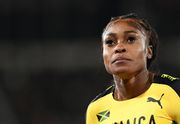 Is Elaine Thompson-Herah doing the right thing by splitting with her coach? She may be making the biggest mistake of her life and these three reasons supports it.
There's also the notion that her husband gets too involved in her professional affairs, which may lead to her downfall.
Thompson-Herah will now be reunited with five-time world champion Shelly-Ann Fraser-Pryce at the Elite Performance Track Club, and fans are already excited about the progress both sprinters can make training together.