Elaine Thompson-Herah has officially parted ways with coach Shanikie Osbourne as her management opened up on the reason for the professional separation.
The management team of Elaine Thompson-Herah, Andi Sports Management in Kingston, Jamaica has confirmed that the reigning Olympic sprints champion has parted ways with coach Shanikie Osbourne.
News broke out in Jamaica that Thompson-Herah had split from coach Osbourne just four months after hiring her, with no concrete reasons given.
However, the management has now released a statement citing that a breakdown in negotiations on a compensation package was responsible for both women parting ways.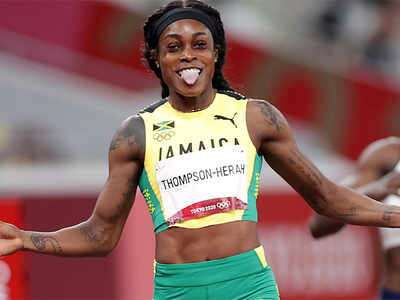 "Five-time Olympic gold medallist Elaine Thompson-Herah and her temporary coach has parted ways.
The professional separation came about due to a breakdown in negotiations on a compensation package for the services that would be provided by coach Osbourne," read the statement.
It continued by saying the package was extremely excessive and without any negotiation flexibility.
"The package proposed by the former coach; by any measure of what is the norm for such services; was extremely excessive without any flexibility to negotiate by the other party. Collectively, we had no choice but to seek services of another coach."
The fastest woman alive started training with coach Osbourne after her battles with Achilles tendon injury and failure to make the Jamaican individual team to the World Championships in Budapest.
Subsequently, their relationship started blossoming as Thompson-Herah made a late-season comeback, blazing to new Season's Best's (SB) of 10.92s and 10.84s in each of her races after Budapest, and eventually ended the season with a blistering 10.79s to place third at the Prefontaine Classic Eugene Diamond League.
The management affirmed in the release that Thompson-Herah benefitted greatly from the services of coach Osbourne, and for that, she would like to express her thanks for the impact in a short time. But they would be searching for a new coach with the Paris 2024 Olympic Games fast approaching.
"In this regard, we have undertaken a process to procure the services of a coach who would be able to ensure the high standards of Mrs. Thompson-Herah are exceeded and her goals for the 2024 outdoor athletics season are met.
"Once our search is complete and a final decision is made we will once again use this medium to officially notify fans, followers, supporters, and the general public."