Track and Field legend Usain Bolt, Rihanna, and ASAP Rocky linked up during a sporting event in Las Vegas.
World's fastest man in history, Usain Bolt had a Caribbean link-up with Barbadian singer Rihanna and her husband ASAP Rocky.
Bolt was at the F1 Las Vegas Grand Prix, where he met with the power couple at the same event.
Since his retirement, the Jamaican has appeared in several sporting and prestigious world events, continuously making his mark as the most famous and influential track and field athlete in history.
Recently, he did a bizarre Epson advert dressed up as film and TV villain Freddy Krueger, which has got people talking about how versatile the multiple Olympic champion can be working with his different brands.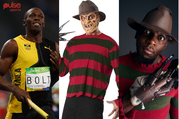 Multiple sprints World Record holder Usain Bolt did a bizarre advert dressed up as a film and TV villain.
Bolt linking up plus taking a picture with Rihanna and ASAP Rocky, shows his influence and popularity both on and off the world of athletics.