Nigerians have called on Super Falcons star Onome Ebi to retire from football after representing her country for several years.
The Super Falcons defender has made several appearances for Nigeria both in African tournaments and International tournaments.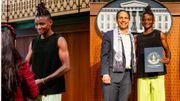 Super Falcons star Uchenna Kanu celebrates meeting with Louisville Mayor, relishes World Cup journey.
She became the first female African Footballer to play in six different FIFA Women's World Cup Tournaments.
Onome became the oldest female player in Africa to play at the already completed 2023 Women's World Cup and has been asked by fans to retire.
Fans want Onome Ebi's retirement
Fans have asked the Super Falcons' oldest player Onome Ebi on social media to retire after several years of playing for the team.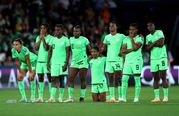 Payne sisters set for Lagos, Plumptre misses out as NFF list 24 Super Falcons for WAFCON qualifiers against Sao Tome and Principe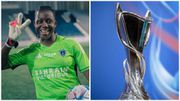 Paris FC will need their Super Falcons goalkeeper Chiamaka Nnadozie to overcome another difficult draw in the UEFA Women's Champions League, UWCL.
The Nigerian star is now 40 years of age and made her first Women's World Cup appearance in 2003.
She has then gone on to play in several other tournaments including playing in six African Women's Championships and winning four of those six competitions.
Click here to enter your free predictions in the Pulse Sports Prediction game for a chance to win ₦1 million
Nigerians on X formerly known as Twitter have said that she has done enough and asked her to retire from playing football.
A fan said on X, "Lol. Onome Ebi refused to retire from the Super Falcons. Many of these people don't know when to stop and we know what ends it."
Another said, "Onome herself should know it's time to give way for the younger ones but she doesn't want to quit when the ovation is high, that is if it's even still high."
Another fan reacted, "Heheh, in fact, na she supposed to first announce before Oparanozie 😅"
Another replied, "Not just Onome there are 2 or 3 more that are no longer as effective in the squad but if the coach keeps calling them and they respond nothing we can do."
A fan commented, "Onome Ebi should read the room and take a bow from this team; she lacks match fitness and sharpness. It's a shame she's still getting called up."