Getafe are exploring a permanent deal for Mason Greenwood after the on-loan Manchester United forward's brilliant start to life at the club.
Getafe are reportedly keen on turning Mason Greenwood's loan spell into a permanent deal.
The Manchester United outcast has scored three goals in 10 games for the mid-table La Liga side.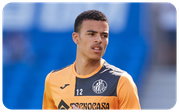 Mason Greenwood is wanted back by Manchester United supporters after his loan stint at Getafe.
According to The Sun, Getafe executives want to negotiate with the Red Devils about a transfer or an extended loan.
"Getafe have discussed trying to get United round the table so they can make an offer, which they believe could be attractive to United to get Mason off their wage bill," a source told the outlet.
"The likelier option is United agree for the loan to be extended as they know that Mason is happy and rebuilding his life."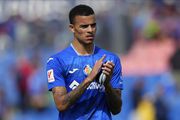 According to reports, Mason Greenwood is unwilling to return to Manchester United after his current loan at Getafe winds up
Greenwood was arrested in January 2022 and suspended on full pay by Man United after charges of alleged rape and assault were made against him.
Those charges were dropped by the Crown Prosecution Service in February, however, after 'key witnesses' withdrew their involvement.
In August, after conducting a drawn-out internal investigation, the club decided that he would not play for them as they were prioritising the 'welfare, wishes and perspective' of his alleged victim, vowing to help all parties, including Greenwood 'rebuild'.
That led to Getafe sealing a loan move for the forward in September and since then, despite the clouds hanging over his reputation in England, he has been warmly received by the club and their fans.
He lives in Spain with his partner and daughter.
Greenwood's current Man United contract runs until 2025 and he still earns £75,000 per week, a portion of which is paid by Getafe.
Follow our WhatsApp channel for more news updates and sports analysis.