In a replay of the 2005 final featuring a certain Lionel Messi, Nigeria will play hosts Argentina in the round-of-16 at the 2023 U20 World Cup
The Flying Eagles of Nigeria have been handed a tough round-of-16 fixture against hosts Argentina, in a repeat of the 2005 U20 World Cup.
Nigeria draw Argentina after finishing third in World Cup group
After winning their opening two games of the World Cup, the Flying Eagles lost their final group stage fixture against Brazil 2-0 to drop to third in Group D behind the junior Selecao and Italy on goal difference.
Nigeria still qualified for the second round despite finishing third, as their six points made them one of the four best losers guaranteed a place in the next round.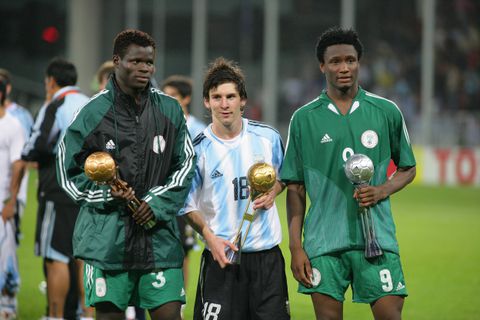 They were the best team outside the top two automatic qualifiers, but their impressive start at the World Cup has been rewarded by one of the toughest draws in the competition's second round.
Argentina and Nigeria renew hostilities
The Flying Eagles were unlucky to only qualify in third place despite claiming six of nine points in the group stage, the same as Brazil and Italy, who also claimed six points in Group D.
Argentina, on the other hand, finished top of group A after winning all three matches against Uzbekistan, New Zealand, and Guatemala in the first round.
Argentina's relatively easier group could serve as a disservice to the Albiceleste, as Nigeria's group has tested them and prepared them for the second round better.
It will be the first time Nigeria and Argentina play each other at U20 level in a competitive game since the 2005 final, and the match will take place on Wednesday, May 31, at 6 p.m. Nigerian time.
Related content