Super Eagles striker Victor Osimhen is set for the toughest decision of his career after Saudi Arabian side Al-Hilal reportedly offered the Nigerian forward
Saudi Arabian side Al-Hilal have reportedly offered Nigerian striker Victor Osimhen more than 10 times his current wages in an attempt to tempt the 24-year-old forward to leave Napoli.
Al-Hilal make mouthwatering Osimhen offer
The Saudi Pro League side reportedly offered Napoli a whopping €140 million for Osimhen's signature, while offering the Nigerian striker close to £1 million per week to join them.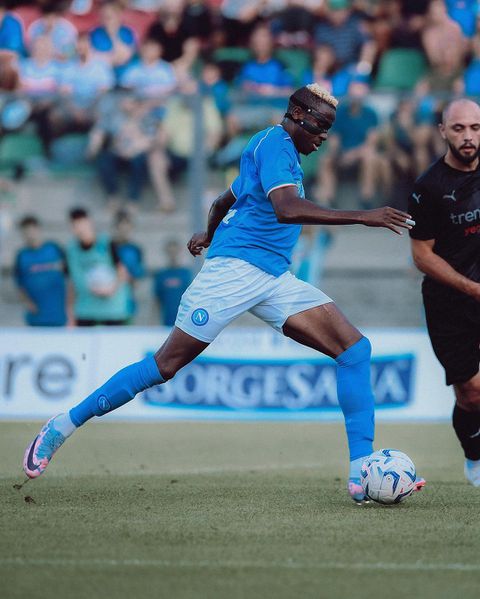 Neither Osimhen nor Napoli have responded to the offer but both parties will definitely be tempted by the money being discussed in the deal.
Napoli have said they are intent on keeping Osimhen in the past and had set a price tag of €150-€180 million if they were to part ways with the Super Eagles striker, but could be tempted to consider the offer from Al-Hilal or negotiate a deal for the marksman.
Osimhen offered tempting wage increase
Osimhen, who is in the process of negotiating a new deal with Napoli, will also be tempted by the offer as it represents a wage rise of up to 1000% from his current €4.5 million per year salary at Napoli.
Napoli and Osimhen are currently locked in negotiations for a new four-year deal for the Nigerian striker and are believed to be close to an agreement for Osimhen that bumps his current salary up to the region of € 7 million to €7.5 million, but even that pales in contrast to what is being offered by Al-Hilal.
It is left to be seen how Napoli and Osimhen react to the reported bid, with the transfer window closing in just over a month, and Al-Hilal desperate for a new striker after the departure of Odion Ighalo, who left the club this summer.
Related content