Whenever there is a debate over the greatest basketball player of all time, the name of LeBron James will always be put up for discussion.
Aside from Michael Jordan, James has no serious competition for this particular accolade. LeBron has won everything there is in the sport, and the fact that he is still competing at the highest level at the age of 38, is a testament to his quality. Here's why he is so highly regarded.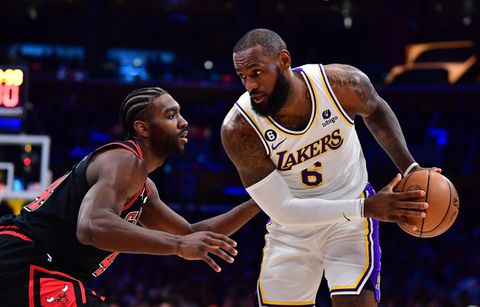 Still Competing
LeBron James starts the 2023/24 NBA season with the Los Angeles Lakers, a team he signed for back in 2018. The veteran Power Forward won his fourth NBA Championship with the Lakers in 2020, and there is a strong chance he can add to that run of success.
Current NBA markets show that the LA Lakers are fifth favorites to win the title this year, behind the Milwaukee Bucks, the Boston Celtics and the Phoenix Suns. While they may be seen as outsiders, the Lakers have a chance, and many sportsbooks have promos available that could offer free bets as a consolation if they don't win the pennant.
It would be a remarkable achievement if James can add a fifth title, but it would merely cap what has already been a stunning career.
Early Days
LeBron James was born in Akron, Ohio in December 1984. He attended the local St. Vincent-St. Mary High School, where he proved to be an outstanding athlete. It was clear that the forward had a promising professional career ahead of him, as he was the very first pick in the first round of the 2003 NBA draft.
The Cleveland Cavaliers were the team to claim James in his first years as a professional. The player couldn't quite drive them towards an NBA Championship win, but he did help them to become a more competitive unit within the Association.
LeBron also won the NBA Rookie of the Year award in that debut season, so he was on his way to becoming a basketball legend.
The Golden Period
The most productive years for LeBron James came during a spell with the Miami Heat between 2010 and 2014. It was here that he won his first NBA Championship as he drove the Heat to glory in 2012.
To prove that this wasn't a one-off, James and his Miami franchise successfully defended their title in 2013. Back-to-back titles are rare in the NBA, and it takes a special team with special players to secure this achievement.
Lebron was hitting his peak during this spell, but Heat fans were devastated when he left the club to rejoin the Cleveland Cavaliers in 2014. Maybe he felt he had unfinished business, but the prospect of returning to his native Ohio was too good to turn down.
James succeeded where he fell short in his first years in Cleveland, taking the team to the NBA Championship title in 2016. This was the first, and so far, only NBA title claimed by the Cavs, and that's another huge endorsement of this player's talent.
The Cavaliers of 2016 were not a one-man team, but LeBron James was the difference maker as the franchise claimed their only tangible success in their history.
Later Achievements
LeBron left Cleveland again in 2018 for one final career challenge. He joined a LA Lakers unit who, unlike the Cavaliers, have been one of the most successful sides in the NBA.
The Lakers had won the Championship on 16 previous occasions between 1949 and 2010. Almost inevitably, they ended a relative drought when LeBron James inspired them to another pennant in 2020. That success tops an incredible career, which has seen the player achieve many team and personal milestones.
The Full List of Honors
The full list of honors achieved by LeBron James is tough to match by any athlete in any sport. Along with those four NBA Championships, he's won Gold Medals with the United States national basketball team at the 2008 and 2012 Olympics
In every one of those winning finals appearances, James was voted as the Most Valuable Player. He's also won four season-long MVP awards, and has appeared in the NBA All-Star team on no fewer than 19 occasions.
As he heads towards the latter stages of his career, LeBron James has already set a number of NBA records. He is currently the all-time leading points scorer in the competition, and has landed more double-digit scoring games than any other player.
Among other milestones, only he and Michael Jordan have won at least four MVP awards in NBA finals.
In reality, only Michael Jordan is a serious competitor to James in the history of top NBA stars. So, when we ask the question of who is LeBron James, we can genuinely argue that he is the greatest basketball player of all time.