Nigerians can finally smile as Kennedy Nzechukwu the African Savage knockouts Ion Cuțelaba avenging recent defeats to Usman and Adesanya
Nigerian mixed martial artist Kennedy Nzechukwu defeated Moldovan Ion Cuțelaba in a Light heavyweight bout of the Ultimate Fighting Championship (UFC) Vegas held in the early hours of Sunday, November 20, 2022.
The 30-year-old Nzechukwu was made to fight in the main event against Cuțelaba as Derrick Lewis suffered an unfortunate illness ahead of the scheduled headliner with Serghei Spivac.
Getting bumped up to the main event will see Nzechukwu start slow against Cuțelaba in round one.
It was in the second round Nzechukwu known as the African savage would unleash several knee strikes to take out Cuțelaba.
At the 1:02 mark of the second round, the referee Keith Peterson awarded Nzechukwu the victory following a barrage of shots without a response from Cuțelaba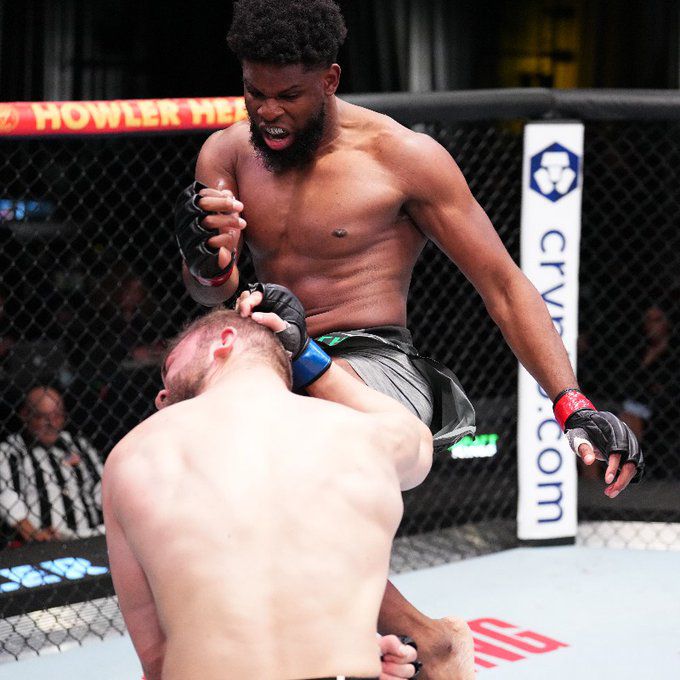 Nzechukwu on victory against Cuțelaba
It is now back-to-back victories for Nzechukwu in the UFC light heavyweight division after victories against Karl Roberson and now Cuțelaba.
Nzechukwu after the fight explained why he started slow and the pressure of fighting in the main event of a UFC card.
He said, "Back in training camp we made the right adjustments.
"I'm slowly growing up in the cage. It's going to be a slow start. I'm a slow learner but eventually, I'm going to get there."
"We had five fights in front of me, and they came in there and told me Derrick Lewis couldn't pull through. I think he was sick or something like that, and they said they were bumping us to the main event,
"I was like, 'Fine, it doesn't really matter because, at the end of the day, it's more exposure for me,' so it just gives me more motivation to display my skills in the cage.
"So I was ready, super stoked, calm, which I haven't been this calm. I grew up in the UFC, so I tried to build that mental state.
"I was fascinated. I was intrigued. I was ready. I just wanted to show my skills. Main event or not main event. I'm ready."
Nzechukwu gives Nigerians victory in the UFC Octagon once again after back-to-back defeats for Israel Adesanya and Kamaru Usman.
Victory against Cuteleba now gives Nzechukwu contender status in the Light heavyweight division as he returns to the Octagon next year.