The Nigeria international finally got off the mark for his new side at the weekend, and the signs are encouraging that his new teammates are starting to adapt to his unusual profile
It took him until his fourth match but, ultimately, there's no opponent Terem Moffi enjoys tormenting more than Monaco. His first-half brace (and assist) decided the game at Stade Louis II, leaving Les Monegasques midfielder Krepin Diatta aghast. "This was not AS Monaco," the Senegal international said balefully.
It was very much Moffi, however. The striker took both his goals in similar, familiar fashion, the first instalments of payback for the sizable fee Nice paid to Lorient to prise him away at the end of January.
The three-game mini-drought preceding the visit to the principality was the longest Moffi had gone without a goal in 2022/23, and while that is easy enough to understand as a function of adjusting to new surroundings and team mates – strikers find adaptation more difficult to negotiate on account of a lack of obvious partnerships in most modern systems – his short stay so far at Nice has already highlighted just how big of an adaptation is necessary.
To begin with, in moving from Lorient to Nice, he traded one team that advances the ball the seventh-quickest in Ligue 1 for another that gets it forward only the 14th-quickest.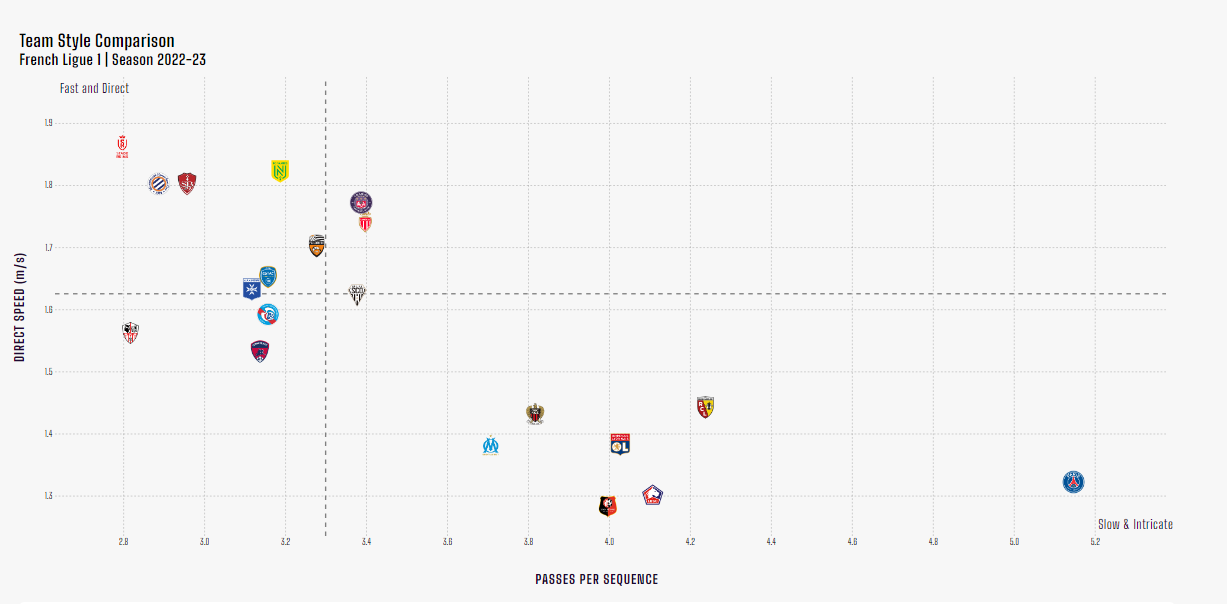 It is not the most radical departure, but it makes enough of a difference that, comparatively, Moffi has been facing more set defences. The upshot of this – fewer opportunities to break in behind quickly – is a particularly knotty one for Moffi who, based on his profile, is a bit of an oddity.
Here's a quick mental experiment. Close your eyes and picture Moffi; then do the same for Victor Osimhen. Who is taller? If you thought the latter, you are mistaken – the Nice man is actually slightly taller. If that strikes you as not quite right, there is a good reason for it: Moffi, despite standing at close to 190m, profiles like a smaller forward.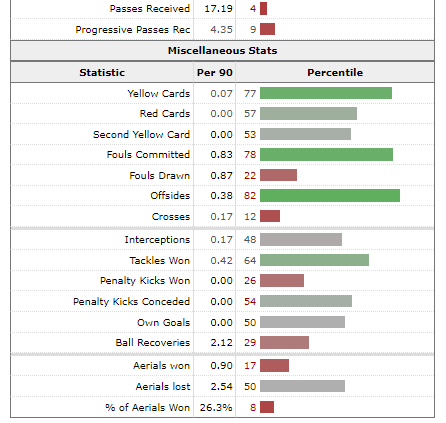 While his physique suggests he should relish physicality, his chief skill is, in fact, his movement on the counter. Take this break against Marseille, on his Nice debut, as a basic representation of what Moffi excels at: whenever Chancel Mbemba thinks he finally has a handle on where the striker is, Moffi makes the opposite run.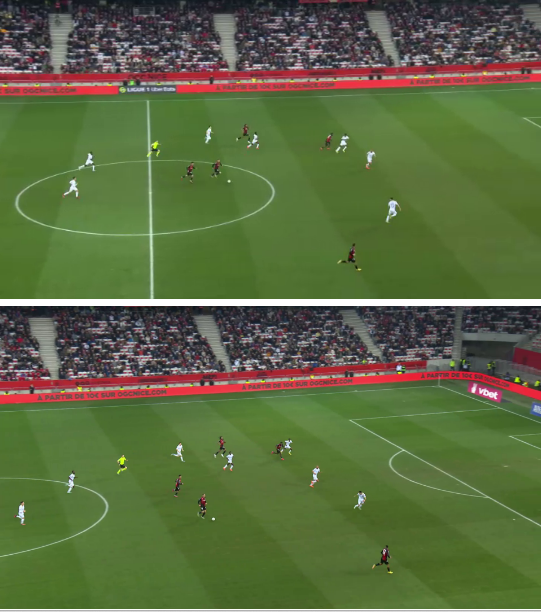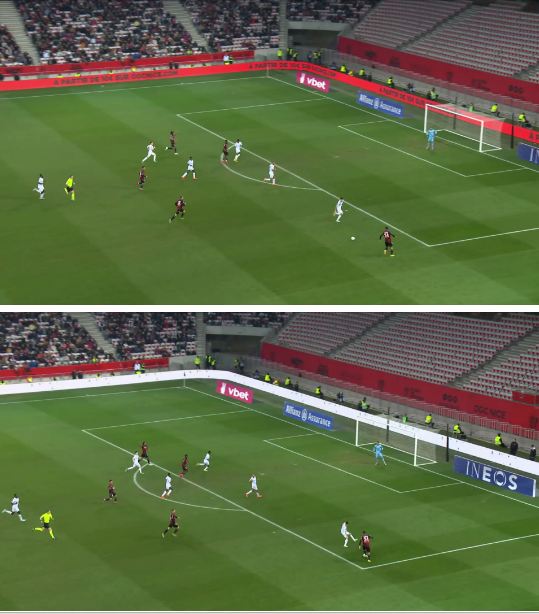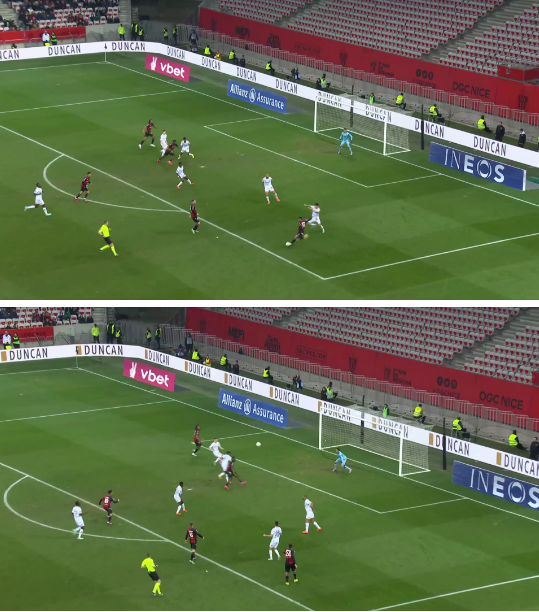 By the time the ball finally comes into the box, he has gotten goalside of the defender, and is only let down by the cross being played behind him. The particulars are not always the same, but the idea holds. Moffi comes alive on the counter.
In settled play, especially when utilised as a target man, the 23-year-old is surprisingly easy to knock out of stride, and struggles with pressure on his back.
Here, he receives with his back to goal, but Mbemba follows him in and Moffi fails to keep his balance, giving the ball away.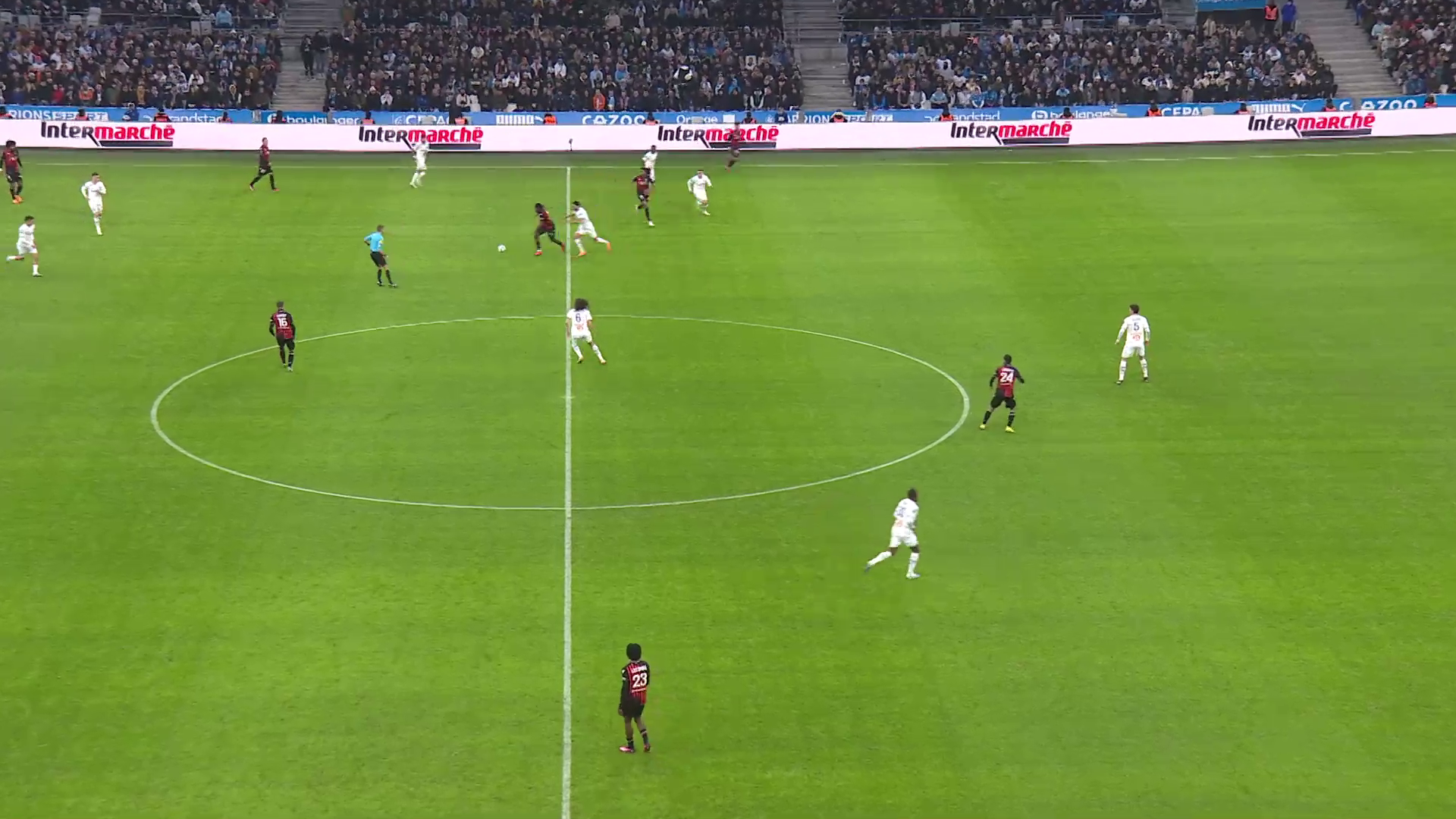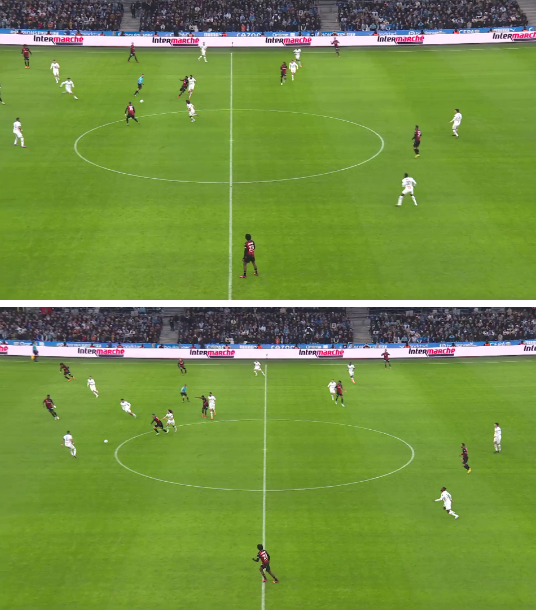 Even against Monaco, the same issue was in evidence. In this instance, he is easily outmuscled by Axel Disasi.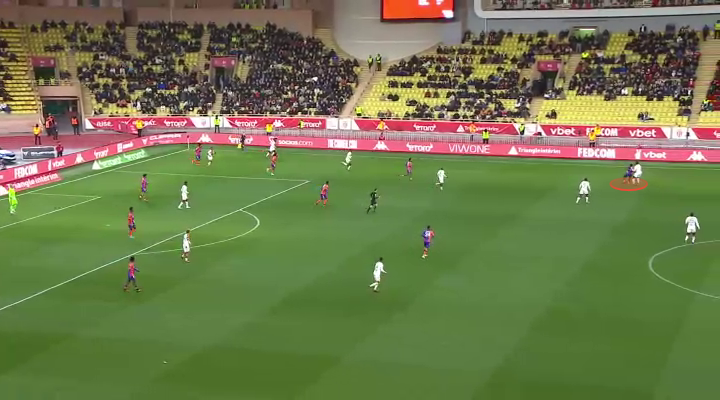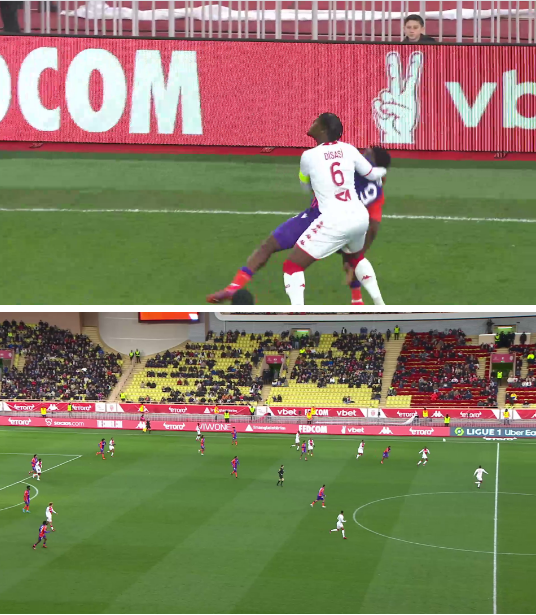 In this instance, for an aerial duel, he barely even gets off the ground.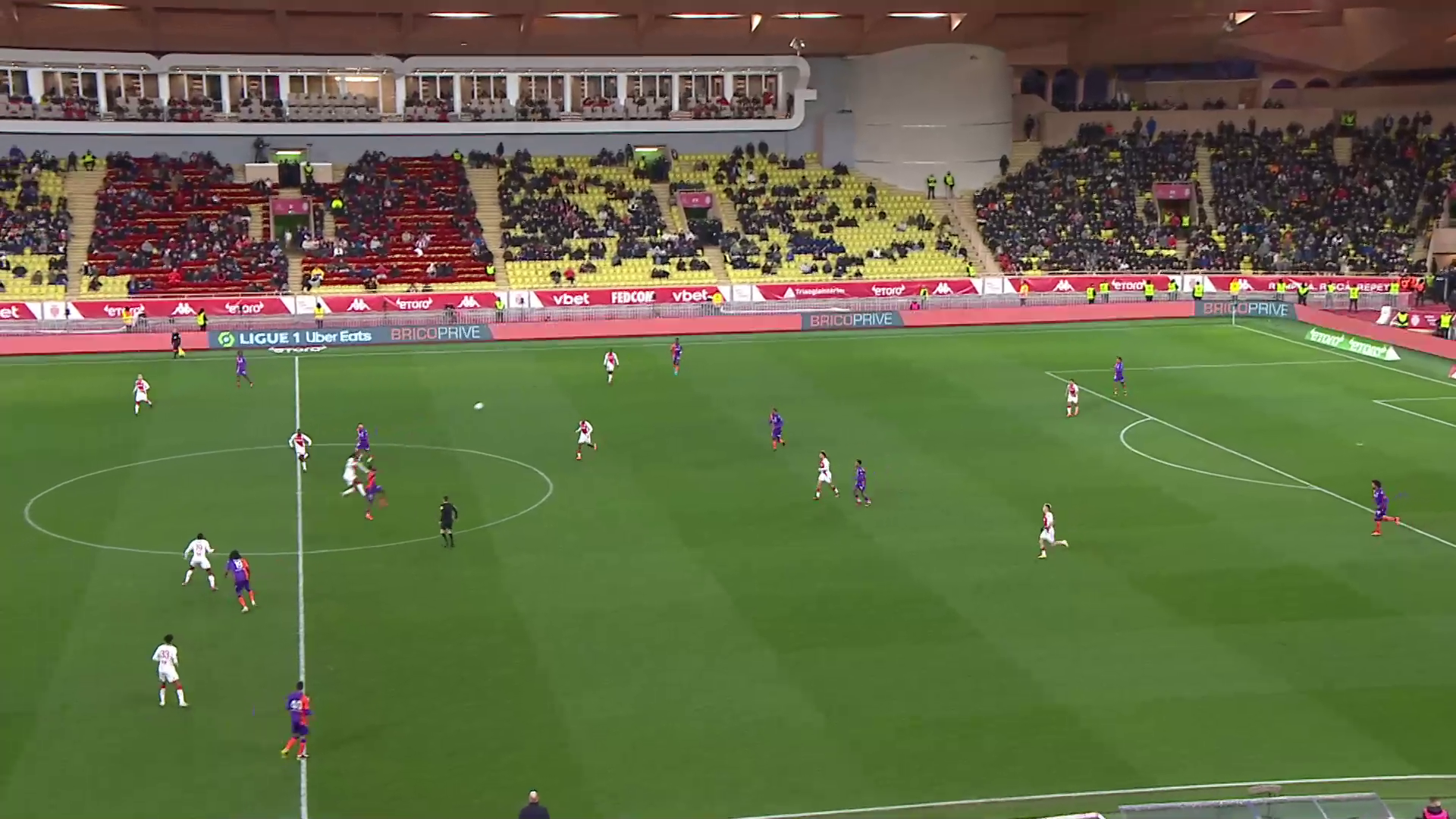 His present unreliability in duelling situations places an even greater burden on his teammates to understand and read his cues, and goes some way toward explaining why it has taken this long for him to break his duck. And whereas previously his movements were ignored or recognised a fraction too late in previous matches…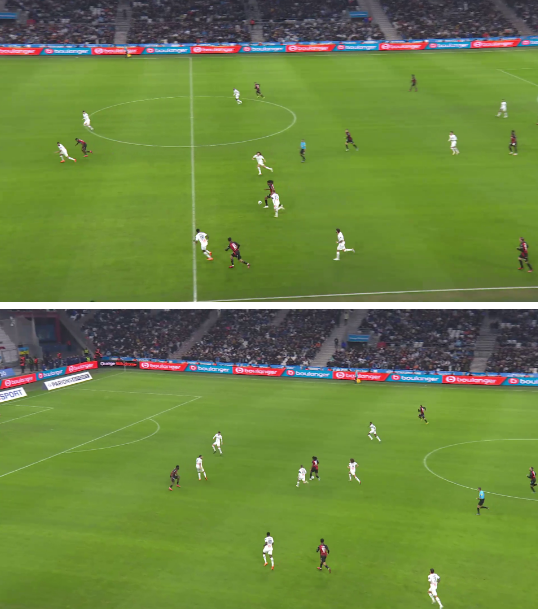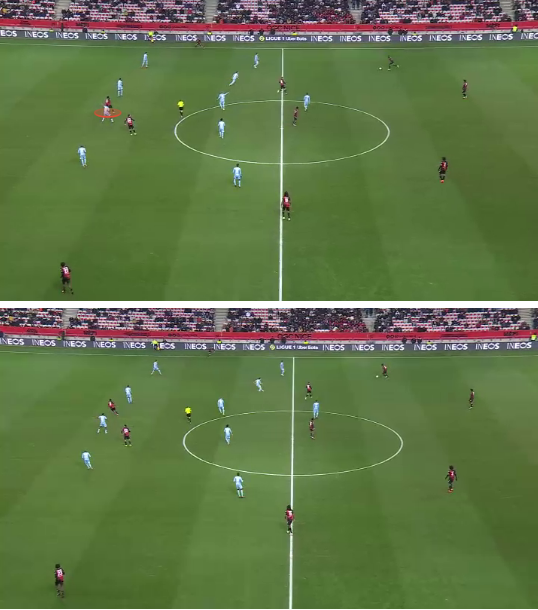 …against Monaco the timing of them was significantly improved. This was demonstrated aptly for his goals: for the first, Dante times the pass in behind perfectly to meet Moffi's run.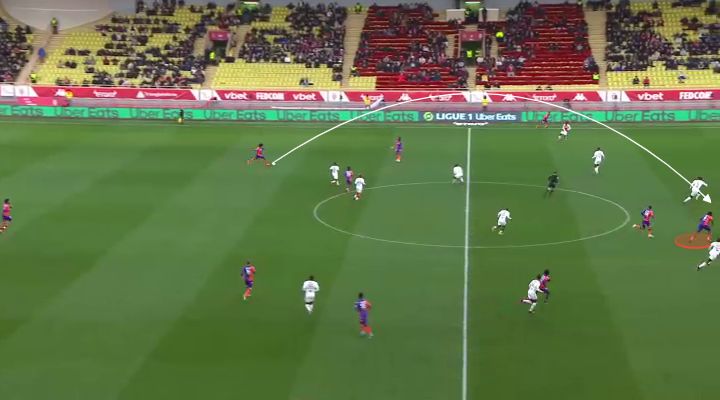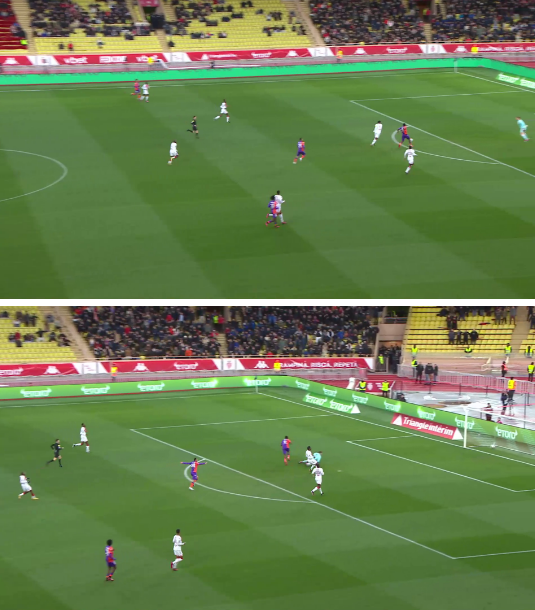 The second, however, was a replica of the sort of goal Moffi has tended to score in France: streaking clear of the defence to finish.
The most remarkable aspect, however, was two-fold: both how quickly Moffi recognised an opportunity to break upon the turnover, and how quickly Khephren Thuram, previously a serial offender in terms of delaying passes into the striker, read his cue and played the pass into the gap. Of course, the sheer disorganisation of the Monaco backline can't have hurt.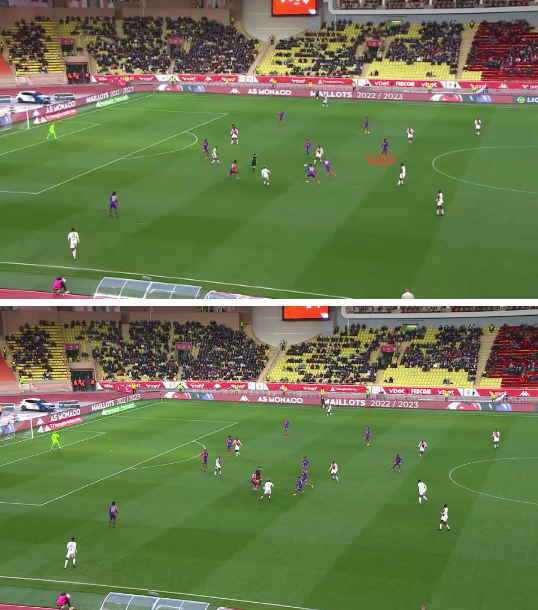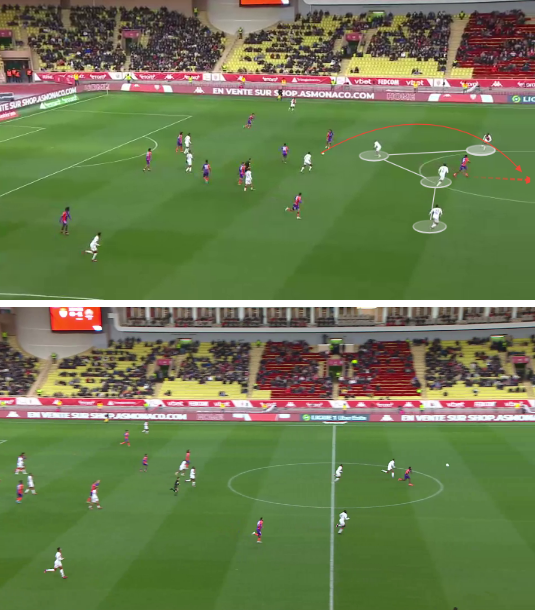 A further example, although this did not result in a goal. Nice goalkeeper Kasper Schmeichel claims a corner, and immediately Moffi sets off. The Denmark international sees him, and without hesitation sends it forward.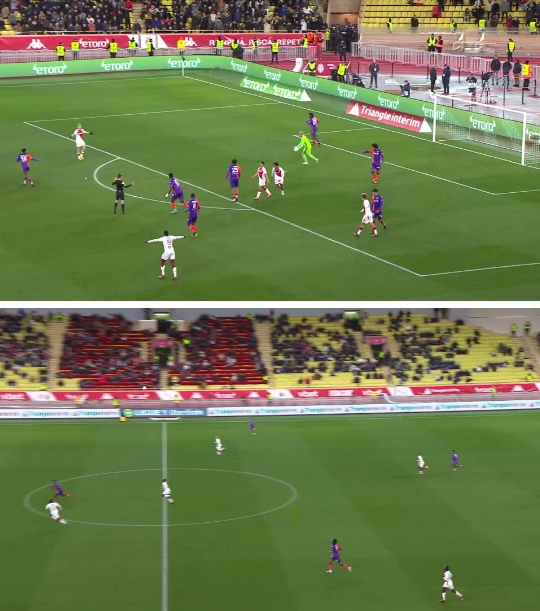 Remember how Moffi comes alive on the counter? Well, here he outjumps and barges Disasi out of the way…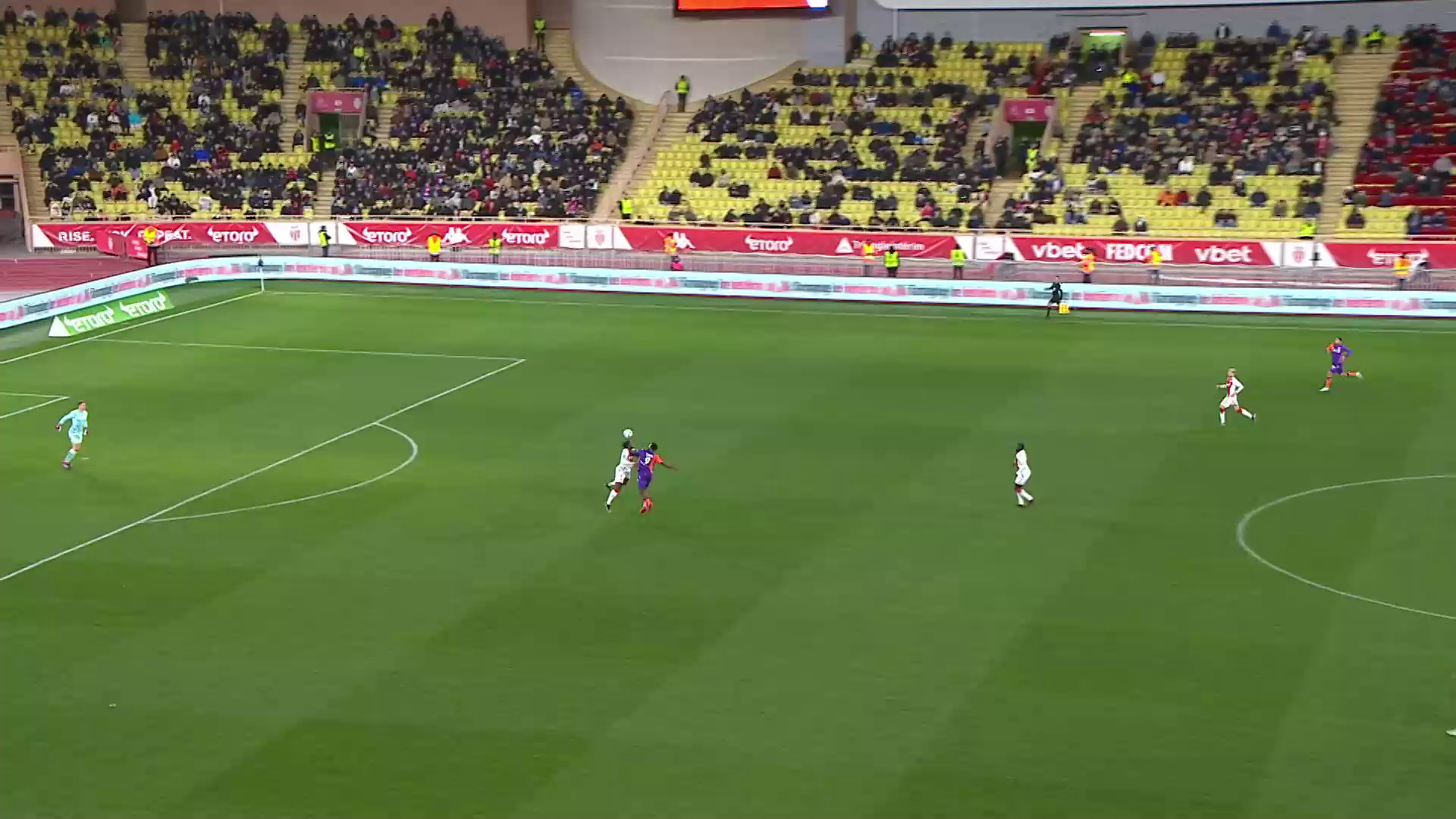 …and gets a shot away, which is saved by Alexander Nubel.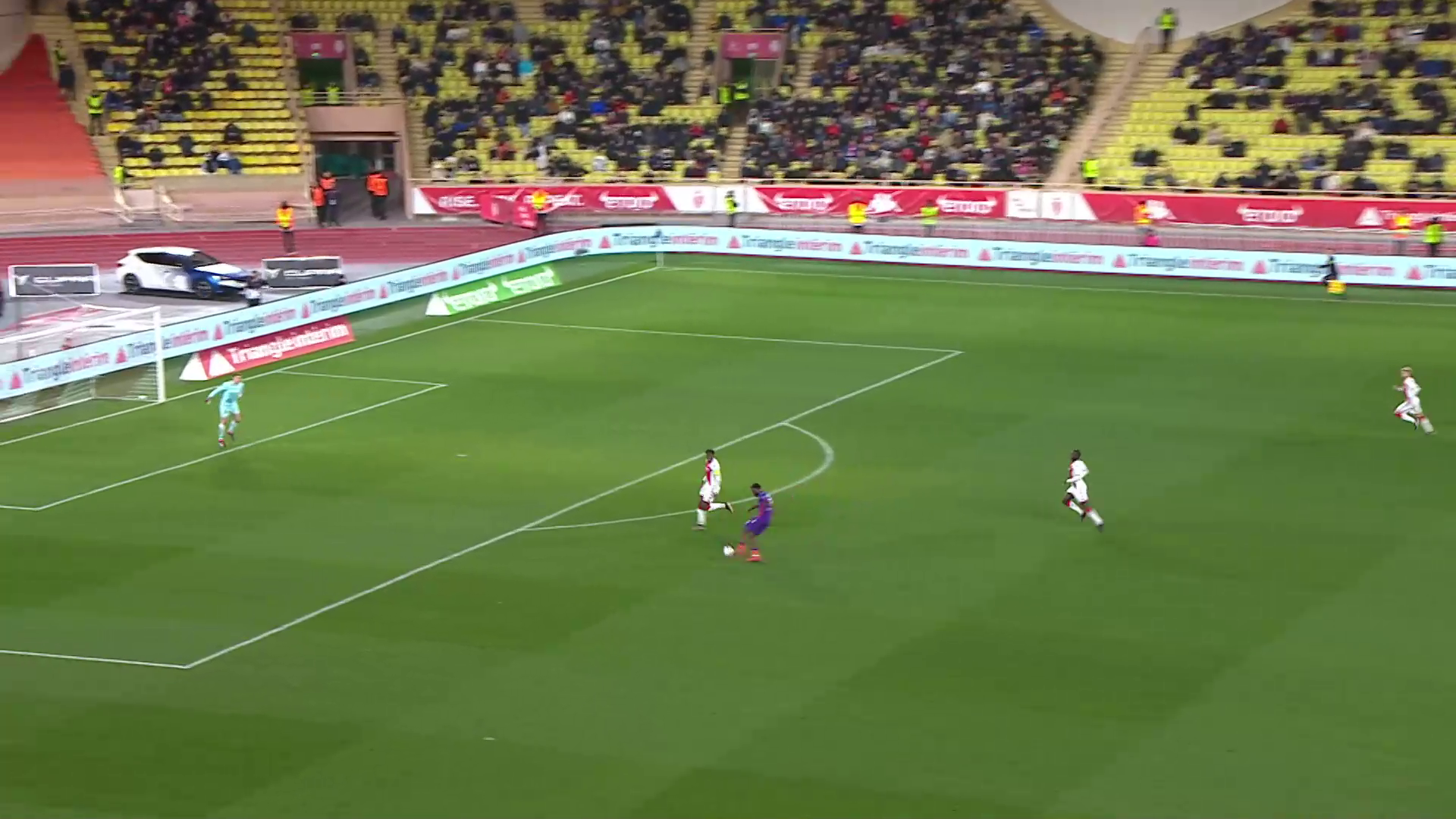 Physicality is no doubt a facet of his game that Moffi will need to improve but, as with all big money signings, there must be a meeting in the middle. (Unless, of course, you are Erling Haaland playing at Manchester City, in which case it does not matter.) Monaco away was an indication Didier Digard's Nice have begun to make that important step toward optimising for their new no.9.