Lakers superstar LeBron James is reportedly considering retiring from the NBA after 20 years following his team's disappointing exit at the hands of the Denver Nuggets.
Lakers star LeBron James is uncertain if he will be on the team for the start of the 2023-24 NBA season and a possible retirement is under consideration.
According to Bleacher Report, LeBron will take as much time as possible to decide whether or not to continue next season after a disappointing exit in the Western Conference Finals to the Denver Nuggets, made even worse by the fact that it ended in a 4-0 sweep.
He has two years, $97 million remaining on his contract, but the final year is a player option.
NBA PLAYOFFS: Denver Nuggets sweep Lakers to advance to finals
LeBron on future plans
"I got a lot to think about," James said post-game. "Just personally, with me moving forward with the game of basketball, I got a lot to think about."
Despite the disappointing end to the season, the 38-year-old had a fantastic year statistically. The 19-time All-Star averaged 28.9 points, 8.3 rebounds, and 6.8 assists per contest,
Related content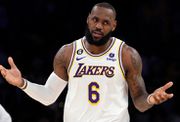 Lebron James was not able to stem the tide and save Lakers.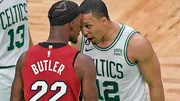 Butler ended the game with 27 points, eight rebounds and six assists, while Williams had nine points, two rebounds and two assists.