Lillard one of the best shooters in the game is finally a 3-point contest champion.
On the third time trying, Portland TrailBlazers guard Damian Lillard emerged the winner of the NBA three-point contest.
Lillard defeated a stacked set of contestants to win the 2023 NBA All-Star three-point contest in the early hours of Sunday, February 19, 2023.
There were five All-Stars Jayson Tatum, Tyrese Haliburton, Lauri Markkanen, Damian Lillard, and Julius Randle competing in this year's NBA three-point contest
The other contestants in the second event on Saturday's All-Star weekend slate included Buddy Hield, Tyler Herro, and Kevin Huerter.
Three-point contest rules
The participants had 1:10 to go through the five racks. Four racks with four regular basketballs and one Moneyball while the fifth rack and an "all money" rack.
The Moneyball was worth two points and the other regular basketballs were worth one point. There were also two "Starry" decals on the court that were worth three points.
Lillard wins 3-point contest
Sacramento Kings sharpshooter Huerter had a rough outing in his first appearance in the tournament.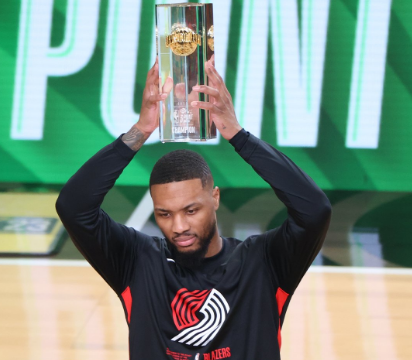 Despite a solid 39.2 percent shooting percentage from range on the year he scored just eight points.
Utah Jazz forward Markkanen finished with only 20 points after a hot start scoring on nine of his first 10 shots.
Rocking a custom Dame D.O.L.L.A. jersey, Lillard, one of the best three-point shooters of all time put up 26 points and had no trouble advancing to the second round.
Lillard was joined in the second round by Indiana Pacers duo 2020 champion Hield and guard Hailburton.
In the second round, Haliburton finished with just only 17 points, Hield put up a solid 25-point performance but Lillard scored 26 points to emerge the winner.