Victor Babatunde Oladipo channels his Nigerian roots in his new album titled TUNDE.
American professional basketball player of Nigerian descent Babatunde Victor Oladipo has dropped a new album.
The 30-year-old NBA star dropped his new album titled TUNDE in the early hours of Friday, February 17, 2023.
The Miami Heat guard announced the arrival of his new album on his official social media platforms.
Along with a snippet from the album in a video format was a message that said, "Premiering my new single "Exercise" featuring my brother @nonsoamadi My whole album will be out tonight at midnight est !!!!!!!."
Oladipo drops new album titled TUNDE
Oladipo an accomplished player in the NBA enlisted Nigerian singer, songwriter, and music producer Nonso Amadi for his new project.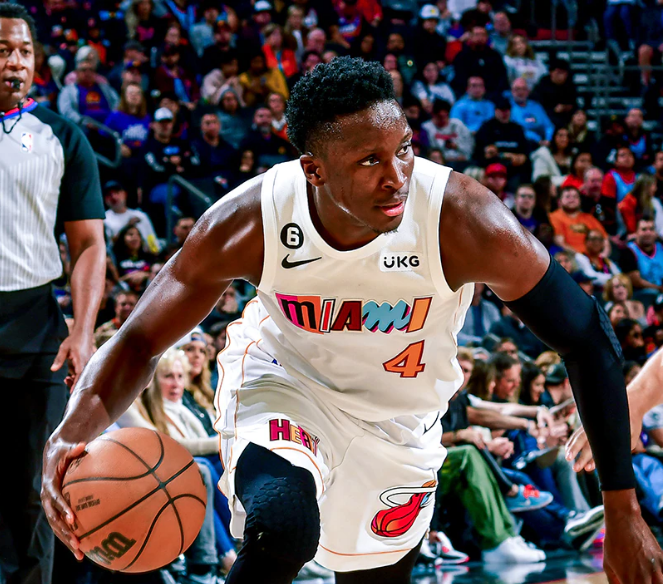 Amadi features on the album's hit track titled 'Exercise' produced by Harmony Samuels.
In an interview with Complex, Oladipo explained why he decided to recruit Amadi a Nigerian star for the song.
He said, "'Exercise' sets the tone for the album. It's just got a great energy about it.
"As soon as we played the beat I immediately thought of Nonso. We sent it over that night and he killed it."
Oladipo combines his NBA career and music aspirations so well. However, his last full-length album was titled V.O. in 2018.
The album featured big-time American musicians such as Trey Songz and the late PnB Rock.
Unlike, V.O the album Tunde has an Afrobeats theme and Oladipo explained that it was time for him to give back to the Nigerian culture.
V.O. his previous album signals his initials while Tunde the title of his new album is coined from his middle name.
The new album has seven tracks and has already risen to the top of the trends on social media ahead of the NBA All-Star weekend.
Oladipo the number overall pick in the 2013 NBA Draft is averaging 11.2 points, 3.5 rebounds and 3.9 assists for the Miami Heat seventh in the eastern conference.