Mike Itemuagbor said Nigeria has lost a real hero of private broadcasting in Dokpesi.
The promoter and organiser of the gold label Okpekpe International 10km road race, Mike Itemuagbor has mourned the passing of High Chief Raymond Dokpesi and says his death is a big blow to the media industry and Nigeria.
Dokpesi, the owner of Ray Power radio station and African Independent Television, AIT, died on Monday in Abuja after a brief illness. His death was confirmed in a statement on Monday by his son and Chairman of Daar Communications, Raymond Dokpesi Jnr.
"It is with deep sadness and heavy hearts that we announce the passing of High Chief Raymond Dokpesi, Ezomo of Weppa-Wanno Kingdom, who passed away on May 29, 2023.
"Dokpesi was a beloved husband, father, grandfather, and friend to many. He will be deeply missed by all who knew him," the statement said.
Itemuagbor, in a condolence message, hailed the impact the late Dokpesi made on the media in Nigeria.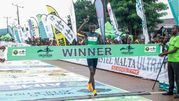 Kenya's Daniel Ebenyo and Kazakhstan's Caroline Chepkoech Kipriu were the winners of the 2023 Okpekpe International 10km road race, storming to new Course Records.
"The Ezomo of Weppa-Wanno blazed the trail for private ownership of radio stations in Nigeria and was a great supporter of Okpekpe road race, the first road running event to get a World Athletics label status," said Itemuagbor in his condolence message.
"Chief Dokpesi's AIT has been partnering with us since the start of the race. He was an outstanding businessman and a media mogul," added Itemuagbor, who believes the late Dokpesi has left his footprint on the sands of time and his legacies are clear testimonies to his greatness as a man who ventured into private broadcasting and broke the ground for many who came after him.
"I condole with the family of Chief Dokpesi and the government of Edo state over the death of the high chief. He died a great man who transformed the media space. May his soul rest in peace," he wrote.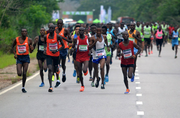 Okpekpe road race organiser was full of praise for the successful organisation of the race.