Since bursting onto the scene by winning Roland Garros in 2020, Iga Swiatek has been marked for greatness. Three further Grand Slams later and over a year spent at world no.1, the Pole is fulfilling her potential and leading the way for this generation of women's tennis professionals
Iga Swiatek's age
Iga Swiatek is 22 years old, having been born on May 31, 2001.
Where is Iga Swiatek from?
Iga Swiatek was born in Warsaw, the capital of Poland. She currently resides in Raszyn, a village in east-central Poland.
When did Iga Swiatek start playing tennis?
Iga Swiatek began playing tennis at the age of 5.
Iga was born into a sporting family, with father Tomasz being a former Olympic rower. He pushed his children – Iga and older sister Agata – to pursue sports. While Agata initially favoured swimming, she eventually took up tennis, and it was thus that Iga's love for tennis was born. Essentially, her desire to compete against and beat her sister led Iga to take up tennis for herself, ultimately building a professional career for herself while Agata grew up to become a dentist.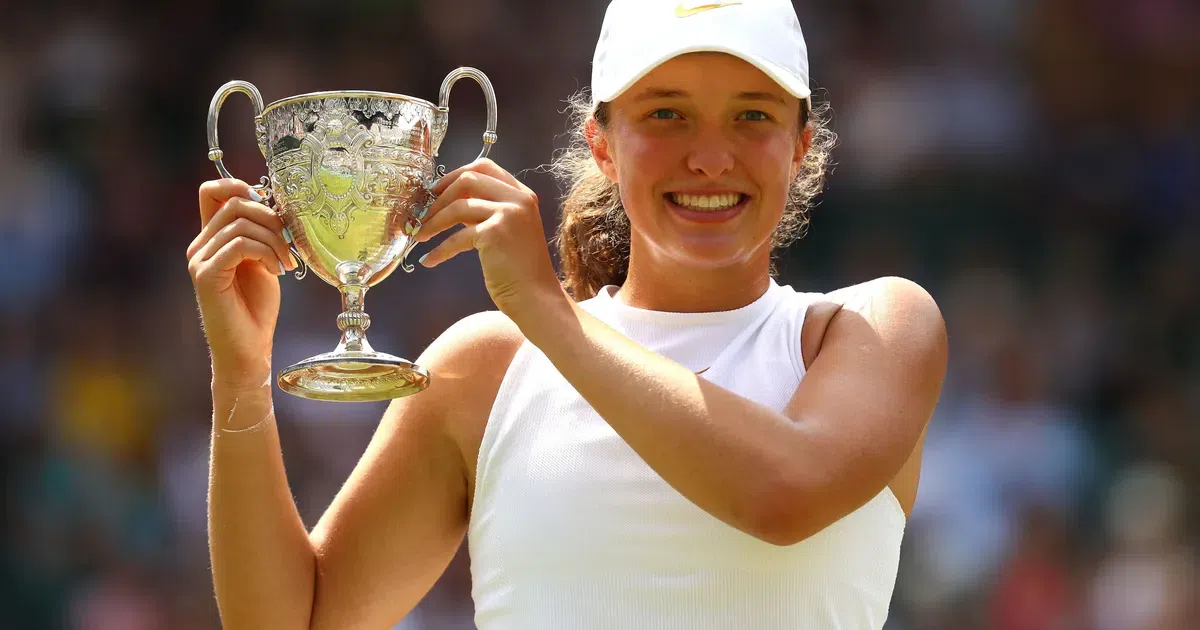 She would go on to be ranked as high as no.5 in the ITF Juniors ranking. By far the highlight of her juniors career was winning the Junior Wimbledon title in 2018, when she only dropped a set en route to beating Leonie Kung in the final.
Is Iga Swiatek married?
No, Iga Swiatek is not married. There are also no details in the public space about her relationship status, present or past.
What is Iga Swiatek's net worth?
Per the WTA website, Iga Swiatek has amassed over $21 million in prize money over the course of her career to date (October 2023). She does have other endorsements and sponsorships, but the value of them is presently not in the public domain.
Why is Iga Swiatek so good?
Iga Swiatek possesses a rock-solid, all-court game based around her topspin forehand and her footwork, which enables her to get around the court and reach balls other players cannot.
The spin on her shots also allows her to hit both with margin and rare power: at the 2023 French Open, her forehand topspin reached 3,453 revolutions per minute (rpm), a figure that competed favourably with 14-time champion Rafael Nadal, who she considers her idol.
At that tournament, in her victory over Claire Liu, her forehand clocked in at 129 km/h, matching that of world number 8 Casper Ruud, who has one of the biggest forehands in the sport.
She is also one of the premier returners in the WTA: in 2023, she is sixth for first serve return points won, and leads the tour for second serve return points won.
Can Iga Swiatek win Wimbledon?
Being one of the leading players in the world, Iga Swiatek can definitely win Wimbledon. However, of all the active surfaces, grass is her least favourite, mostly because it affects her movement, which is one of her best qualities, as well as due to the short, sudden transition from the clay swing.
Despite winning her only junior singles Grand Slam title on grass, her worst Slam results on the main tour have come at Wimbledon, where she had never been beyond the Fourth Round before 2023. Reaching the quarter-finals in 2023, where she fell to Elina Svitolina, is a new personal best, an improvement that suggests the potential to eventually win Wimbledon.
"If I would have more time to play on grass, I'm pretty sure that I would be able to play better and better," she said. "For sure, sliding is tricky here so you have to slow down and stop before the shot in a different way."
Who sponsors Iga Swiatek?
Iga has a number of sponsors, the principal of which is Polish insurance company PZU. Others include On Running, which is her sportswear partner; Tecnifibre, which is her racket sponsor; OSHEE, an isotonic energy drink brand; automobile giant Porsche and American multinational payment card services corporation Visa.
Iga Swiatek with On Running
In March 2023, Iga Swiatek inked a deal with Swiss shoe brand On Running, leaving her previous deal with ASICS. In doing so, she became the first female athlete to sign on as an ambassador with the Roger Federer-backed company.
As part of the partnership, On Running has been providing her head-to-toe apparel ever since, although she only pivoted to On Running shoes on the eve of the 2023 US Open. She wears a "custom edition of THE ROGER Pro, a competition shoe designed individually for her play style, with consultation from Federer and the On innovation team."
Iga Swiatek for Ukraine
Iga Swiatek has been vocal in her support for Ukraine in the face of their ongoing conflict with Russia. She wears a blue and yellow ribbon in her face cap as a mark of her solidarity with the people of Ukraine, and has often used her trophy speeches as a platform to advocate for the Ukrainian people.
Following Indian Wells in 2023, Swiatek weighed in on the controversy of Russian player Anastasia Potapova wearing a Spartak Moscow jersey for her match against American Jessica Pegula, a gesture that led Ukrainian Lesia Tsurenko to withdraw from the tournament. "I totally understand why she withdrew, because honestly I respect the Ukrainian girls so much," Swiatek said. "If, like, a bomb landed in my country or if my home was destroyed, I don't know if I could handle that.
"I feel more should be done to help Ukrainian players because everything we discuss in tennis is about Belarusian and Russian players."
Iga Swiatek and Daria Abramowicz
Iga Swiatek has spoken often on the importance of mental health, and to this end she always travels on the tour with her personal psychologist Daria Abramowicz. Swiatek incorporates the mental aspects into her training as well, an approach which, according to Abramowicz – a former competitive sailor – makes her "unique" in the sport.
"It's amazing," Abramowicz said. "Creating and managing a healthy and sustainable career nowadays, especially in the era of social media and mobile devices and other pressures, it's something that's a great challenge for almost everyone in high performance sport.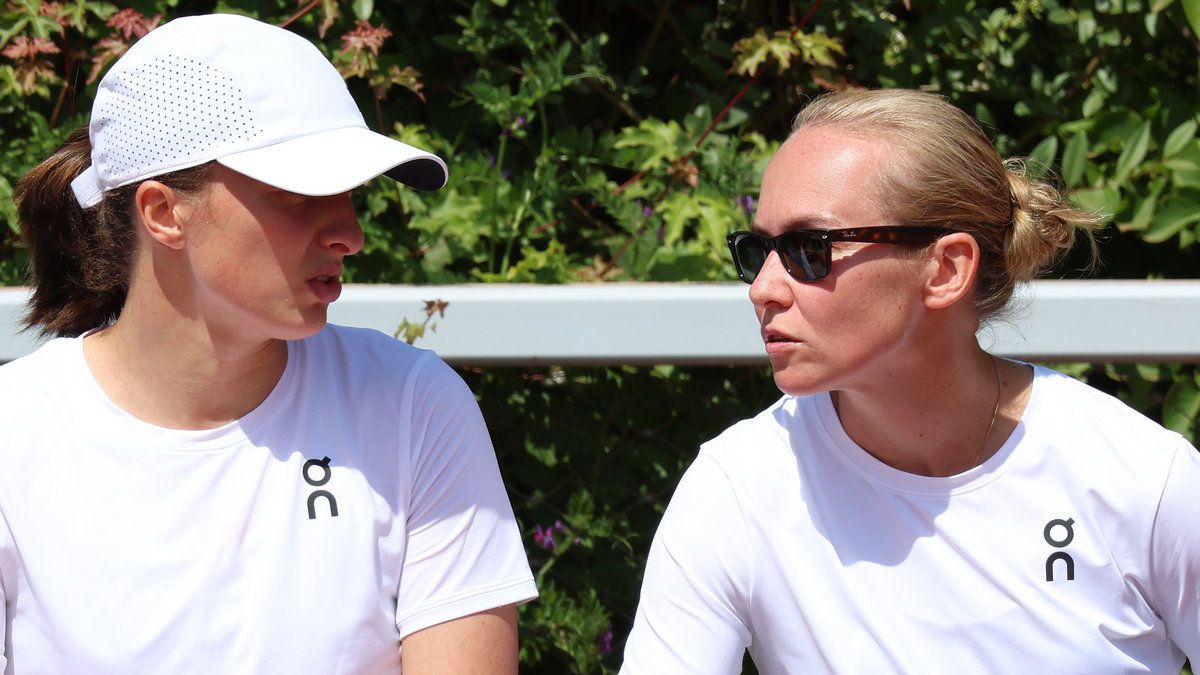 "I really, really do hope that she will set an example for other young athletes."
The influence of the 36-year-old has, however, not always been well received. Following the airing of the Netflix tennis documentary 'Break Point', viewers expressed concern over Abramowicz weighing in on Swiatek's choice of hairstyle, input many considered intrusive and controlling.
Swiatek addressed the backlash toward Abramowicz directly, stating that their interaction in that moment is best understood through the lens of sarcasm, and called out the hateful nature of the online commentary.
Iga Swiatek vs Coco Gauff
Iga Swiatek enjoys an 8-1 head-to-head advantage in matches against American tennis star and 2023 US Open champion Coco Gauff. The Pole won their first seven meetings without dropping a set, the most notable of those victories coming in the final of the 2022 French Open, when Swiatek beat Gauff 6-1 6-3.
Gauff's solitary win over Swiatek (as at October 1, 2023) came in the semi-finals of the 2023 Cincinnati Masters, where the American teenager finally overcame her hoodoo, winning 7-6(2) 3-6 6-4. Swiatek did, however, win their next meeting, reasserting her dominance in a routine 6-2 6-3 win.
Their meetings have been largely decided by an unfavourable forehand-to-forehand dynamic for Gauff that pairs Swiatek's strongest shot – her topspin forehand – with the American's weakest.
Iga Swiatek vs Aryna Sabalenka
Iga Swiatek's head-to-head against Aryna Sabalenka is a lot more even, however. The Pole holds a 5-3 winning record against her Belarussian counterpart, although two of Sabalenka's wins have come in their last three meetings.
Their first ever meeting took place at the 2021 WTA Finals, with the hard-hitting Sabalenka triumphing in three sets 2-6 6-2 7-5. What then followed was four straight wins for Swiatek in 2022, a year in which she strung together a 37-match unbeaten run and consolidated her place at the top of the WTA Rankings.
Their most recent meeting was the final of the 2023 Madrid Open, and was won by Sabalenka 6-3 3-6 6-3.