History is on the line as Sevilla take on AS Roma in the first of the three European club finals this season.
The Europa League takes centre stage on Wednesday night as the competition giants Sevilla take on an AS Roma side managed by one of the greatest managers of all time Jose Mourinho.
Sevilla got here after dropping from the Champions League, beating the likes of PSV, Fenerbahce and Manchester United on their way.
Meanwhile, Roma were in from the group stage, beating RB Salzburg, Real Sociedad, Feyenoord and Bayer Leverkusen in the knockout stages to get to the showpiece.
A lot of things will be on the line for both teams and key individuals at Puskas Arena in Budapest, the venue of this year's final.
With that said, we look at what is at stake as Sevilla and Roma chase silverware.
Champions League spot
Aside from the trophy available, the Europa League will also offer the winners a chance to play in next season's Champions League.
Both teams failed to qualify for the Champions League via the league, but one of them will get the chance to rub shoulders with Europe's biggest boys next season.
Europa League winners do not only get a place among Europe's elite but they also get to be among the top seeds, meaning they are likely to have an easy draw.
The pressure is on both teams but more on Roma as they were in the top four race in Serie A before throwing their eggs in the Europa League basket.
Sevilla and Mourinho's unbeaten record on the line
No matter what happens in Budapest, an unbeaten record will come to an end. Sevilla's Europa League heritage will clash against Mourinho's finals heritage.
Los Nervionenses have won the Europa League six times out of six finals and are going for a seventh in their seventh attempt.
The first of their six came in 2006 when they defeated Middlesbrough 4-0. They repeated the same trick a year later, beating Espanyol 3-1 on penalties.
Sevilla then won three straight between 2014-2016, beating Benfica, Dnipro Dnipropetrovsk and Liverpool, respectively. The Spanish side were back again in 2020, beating Inter Milan 3-2 to win their sixth Europa League trophy.
However, they face a difficult task in their quest for a seventh title. While Roma have just one European title, they have a manager who knows how to win a final.
Mourinho is unbeaten in five European finals and will be gunning for a sixth in Budapest. The Portuguese tactician won his first major European trophy with Porto in 2003, beating Celtic 3-2 in the UEFA Cup final.
Mourinho then won the Champions League a year later with Porto following a 3-0 win over Monaco in the final.
Another Champions League title came in 2010 as he led Inter Milan to a 2-0 win over Bayern Munich.
The Portuguese tactician then won the Europa League with Manchester United in 2017 before leading Roma to the inaugural UEFA Europa Conference League title last season.
Mourinho chasing history
Mourinho is not only aiming to keep his finals record here but he is also chasing a special record in Budapest.
Having won the competition two times with Porto and Man Utd, Mourinho could be the first manager to win the competition three times with three different clubs if Roma emerge victorious on Wednesday night.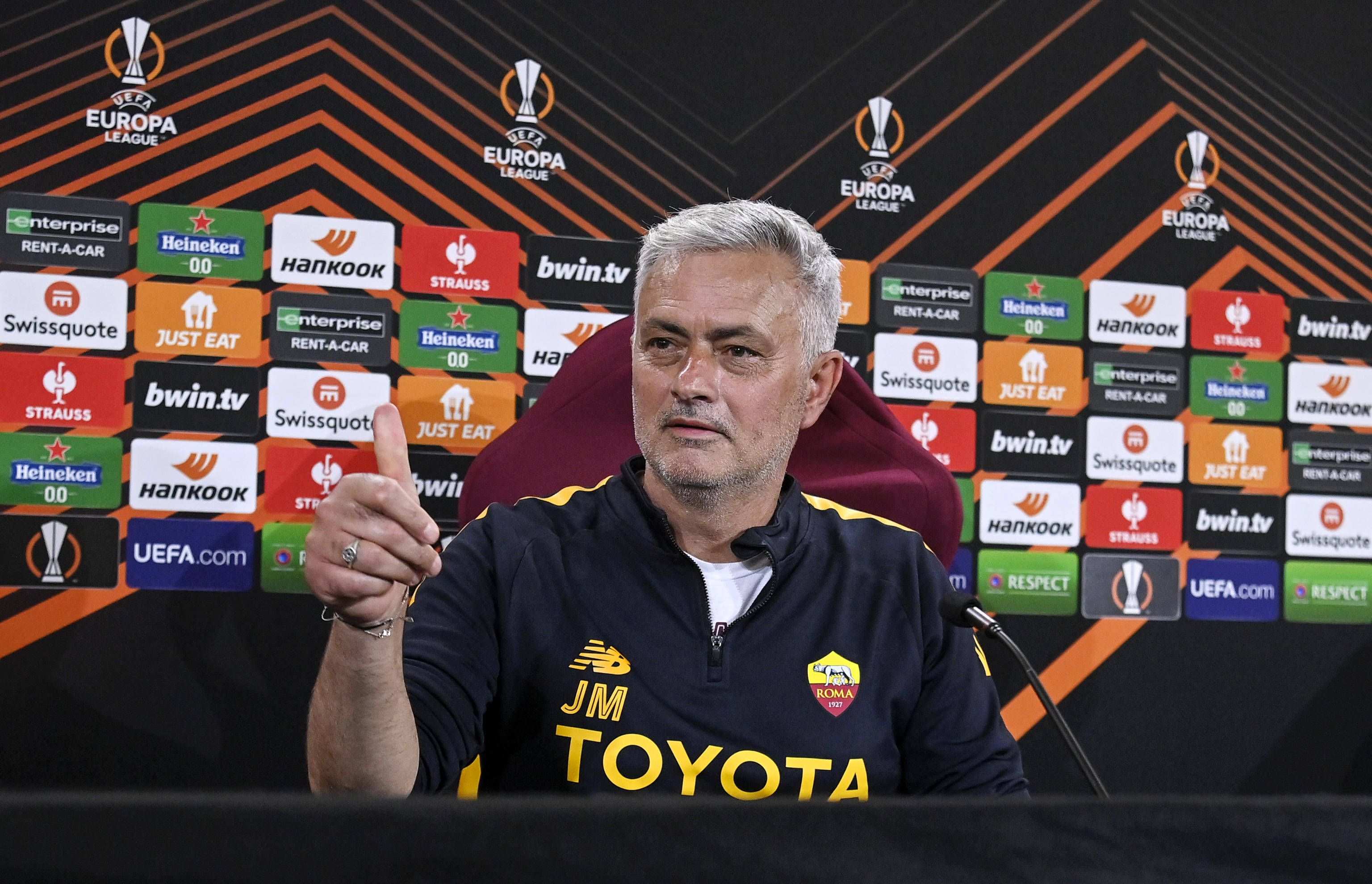 Although Unai Emery has won it four times, he won it with two clubs, three times with Sevilla and one with Villarreal.
Mourinho can break his tie with Emery if he leads Roma to their second successive title in Europe on Wednesday night.
Related content