Slavia Prague honored Super Eagles of Nigeria star Peter Olayinka with the Olayin Cup in farewell game.
Peter Olayinka, a striker for the Super Eagles of Nigeria, was presented with a one-of-a-kind trophy to recognize his great achievements for Slavia Prague.
The club honored the Nigerian star with the Olayin Cup in recognition of his outstanding accomplishments while playing for Slavia Prague.
The unique trophy served as an appropriate monument to Olayinka's legacy as he said goodbye to the team with which he had devotedly played for five years.
Over the course of his five years wearing the red and white, he won seven titles with Slavia.
Peter Olayinka participated in 182 games and netted 50 goals to become a fan favorite.
In the contemporary era of European Cups, he established himself as Slavia's leading scorer and cemented himself as a club legend.
The trophy contains 83 sections overall, five segments for each year, representing five seasons, 50 goals, 26 assists, and seven trophies.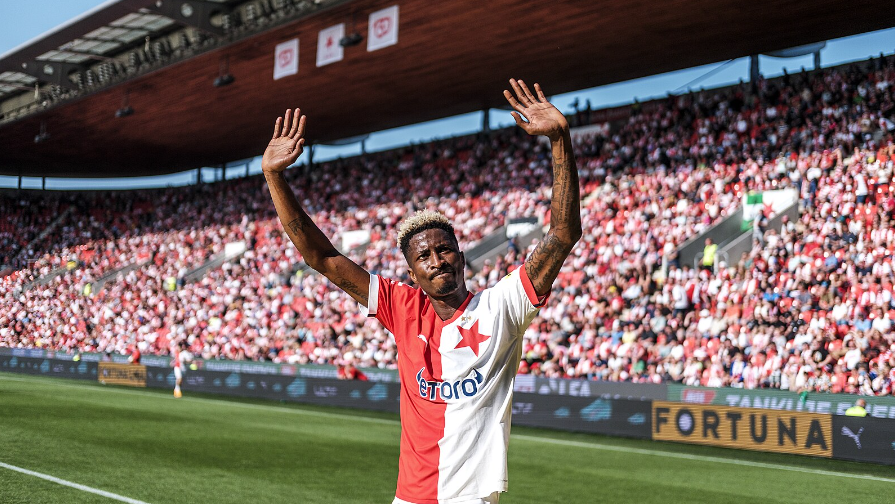 Peter Olayinka on OlayinCup
Speaking to the Slavia Praga website about the trophy, Olayinka said, "I value this cup very much, I didn't expect anything like this at all. It was a shock.
"When I saw him for the first time, I was moved. Hats off to whoever made it. It's incredibly heavy, I'll see how it fits on the plane (laughs). But I love every part of it."
Olayinka was presented with the trophy before kick-off as Slavia went on to record a 4-0 win over Slovácko in his last game.
Olayinka, who served as captain for the final game, will now continue his career in Serbia with Red Star Belgrade.
Related content