Get ready for an action-packed weekend of football with our exclusive guide to the TOP 5 matches worth betting on!
Get ready for an action-packed weekend of football with our exclusive guide to the TOP 5 matches worth betting on! We've sifted through the fixtures to bring you the most thrilling games, complete with insights and expert tips to help you make informed bets. Don't miss out on the thrilling matchups ahead – stay tuned for our picks!
Tottenham Hotspur vs. Liverpool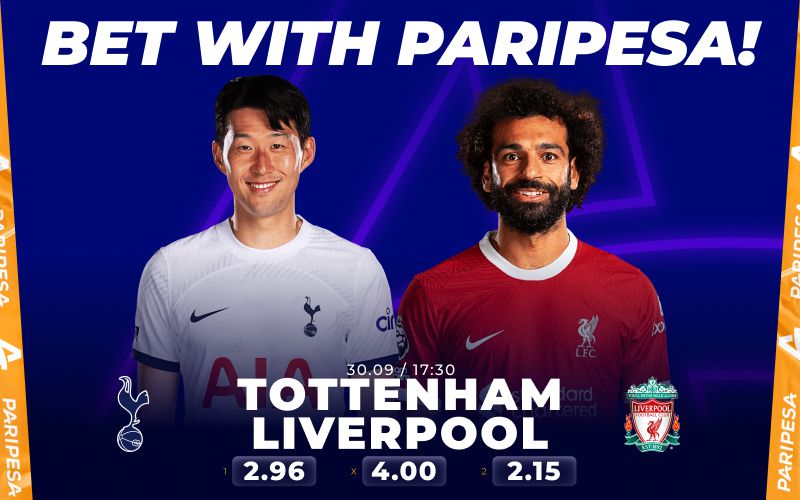 Bet on this match with PariPesa!
Spurs and Liverpool are set to face each other in a crucial match at the Tottenham Hotspur Stadium as the headline EPL fixture on Saturday. The game promises to be an exciting showdown between two teams that haven't suffered a defeat in the current campaign. Hosts recently secured a 2-2 draw against Arsenal in the North London derby, and they are determined to extend their unbeaten streak. Ange Postecoglou's men won 4 out of 6 league games at the start of the season, scoring 15 goals and conceding 7 during that run.
With that, Spurs haven't secured a single victory against Liverpool since October 2017, suffering defeat in a frightening 9 out of 12 H2H matches. Moreover, Salah and Co celebrated 5 victories in the last 6 EPL games, which makes the task even more challenging for Spurs. Apart from a 1-1 draw against Chelsea, the Reds scored no less than two goals, so the upcoming encounter is expected to be a goal-filled affair.
Possible picks:
☑️ Liverpool Draw No Bet - 1.65
☑️ Liverpool Over 2 - 2.25
☑️ Total Over 3 - 1.58
RB Leipzig vs. Bayern Munich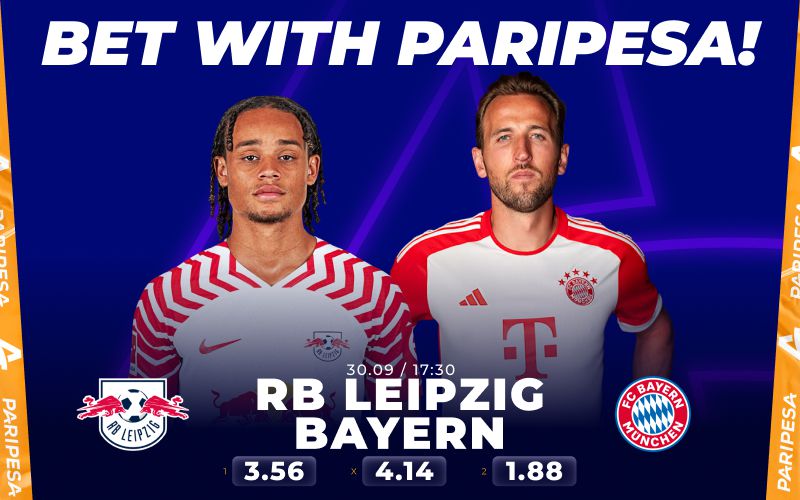 Bet on this match with PariPesa!
The upcoming match between RB Leipzig and Bayern Munich is intriguing not only because it involves two of the Bundesliga leaders and contenders for the title but also because it raises the question of whether Bayern can exact revenge for the humiliating 0-3 defeat to the Red Bulls in the German Super Cup at the start of the season. The hosts are in excellent form with 5 consecutive wins in all competitions, where they managed to score 15 goals. Therefore, they appear ready for another showdown with the Bundesliga's reigning champion.After the initial five rounds, Bayern Munich currently top the league table and seems poised for a rematch. They also clinched a 7-0 victory against VfL Bochum in their previous league game where Harry Kane marked the hat-trick and set the benchmark as the league's top scorer with 7 goals. Considering that 6 of the last 7 H2H matchups produced 3 or more goals, the game is likely to be a high-scoring one.
Possible picks:
☑️ Harry Kane To Score First Goal - 4.33
☑️ Total Over 3 - 1.59
☑️ Both Teams To Score - 1.41
Monaco vs. Marseille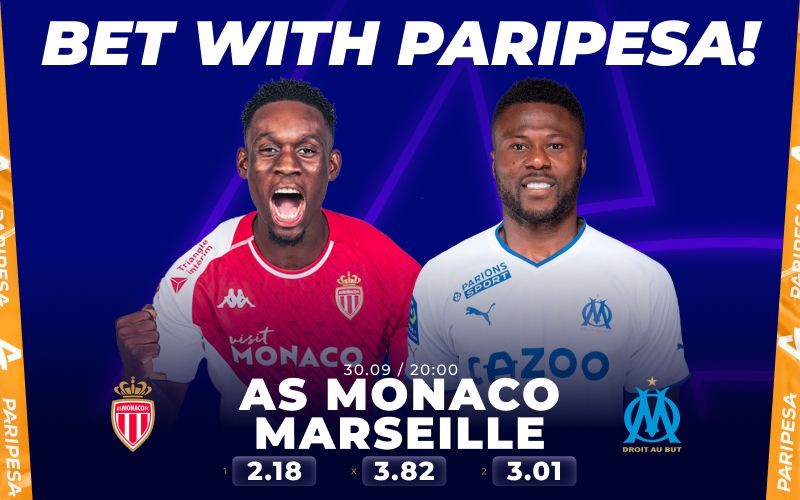 Bet on this match with PariPesa!
Monaco has had a promising start in the Ligue 1, and they have extra motivation to bounce back after a couple of recent setbacks as they host Marseille on Saturday. After 6 rounds, Adi Hutter's team has 11 points, just 2 points behind the leader, Brest. They have good chances for a comeback, especially since Marseille is struggling to score and recently suffered a 4-0 defeat against PSG.
Marseille haven't won in their previous 6 away Ligue 1 matches and their total of 7 goals from the first 6 games is the least among all teams in the top half of the table. Monaco kept clean sheets in victories over Strasbourg and Lens and can repeat this success in the upcoming duel.
Possible picks:
☑️ Monaco To Win - 2.18
☑️ Monaco Handicap (-1) - 3.10
☑️ Marseille Under 1 - 2.64
Milan vs. Lazio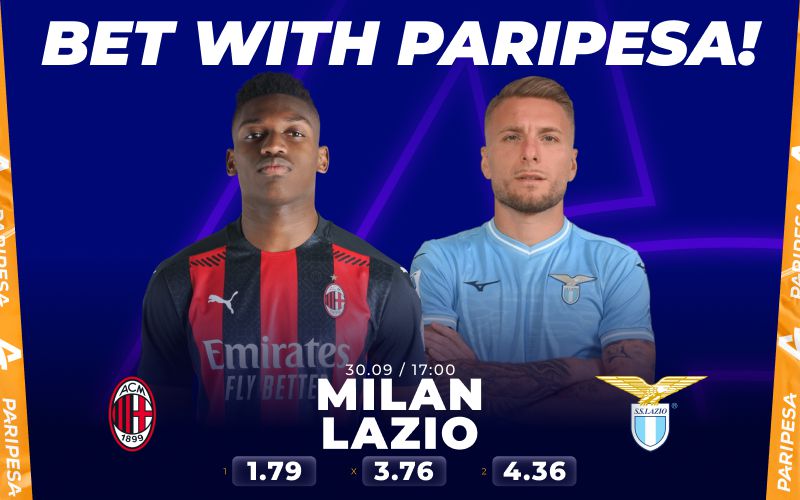 Bet on this match with PariPesa!
Ahead of the head-to-head clash between Milan and Lazio, the two teams find themselves in different parts of the league table. Milan, with 15 points, share the first place with Inter, while Lazio, with 7 points, hold the 11th spot. Aside from their humbling defeat to their city rivals, Milan have been in excellent form. Rossoneri secured 5 victories in the first 6 rounds of the championship and have no intentions of slowing down against a struggling Lazio.In the first 6 rounds of Serie A, the Eagles have only secured two victories, scoring just 7 goals and conceding 8. Furthermore, Maurizio Sarri's team lost both of their away games at the start of the season, so it is expected that they will face particular difficulty in the match against Milan, who defeated at home Verona 1-0 and Torino 4-1.
Possible picks:
☑️ Milan To Win - 1.79
☑️ Milan Handicap (-1) - 2.46
☑️ Lazio Under 1 - 1.62
Atalanta vs. Juventus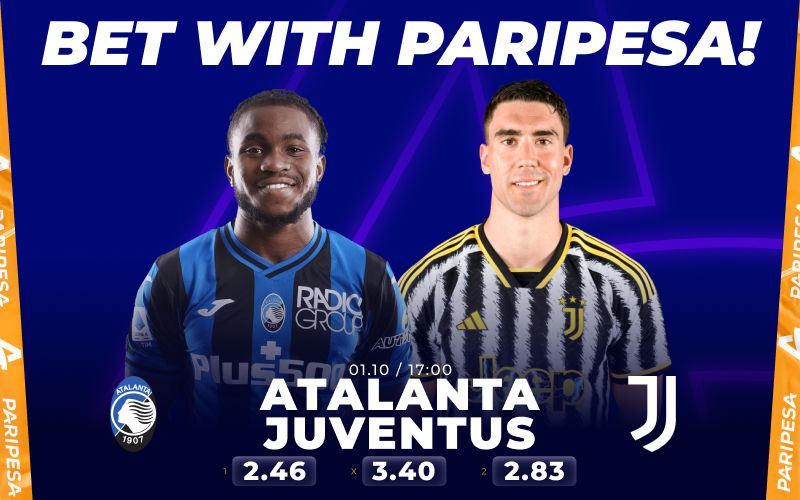 Bet on this match with PariPesa!
Atalanta started the new Serie A campaign with a blend of successes and setbacks, winning 4 and losing 2 of their opening six games. Nevertheless, their current standing at fourth place in the league suggests they remain contenders for the Champions League places. Given that Juventus are also not performing at their best, this clash offers the home team a favourable opportunity to secure some valuable points.Max Allegri is currently in the process of determining which players should be part of the starting lineup. In the previous match against high-flying Lecce, the substitutes who took the field performed well, putting themselves in contention for another opportunity in the upcoming weekend. That 1-0 win on Tuesday helped the Old Lady climb up into third place in the Serie A table and somewhat silenced the criticism directed at Allegri and his team. Interesting fact: Both teams have scored in all of their matches since their last head-to-head friendly encounter in August. This gives reason to believe that the upcoming clash won't be a dry one.
Possible picks:
☑️ Both Teams To Score - 1.68
☑️ Over 2.5 - 1.86
☑️ Juventus Over 1 - 1.62