Nigeria's Rema and Hakimi shine at the 2023 Joy Awards
Moroccan football superstar Achraf Hakimi was celebrated at the 2023 Joy Awards held on Saturday, January 21, 2023.
The 24-year-old Hakimi joined directors, athletes social media influencers, and international artists to celebrate the Joy Awards.
The award that honors celebrities for their achievements was held at the Bakr al-Sheddi Theater in Boulevard Riyadh City, Saudi Arabia.
Celebrities such as Georgina Rodriguez partner to AlNassr's new recruit Cristiano Ronaldo were in attendance at the award ceremony.
As the celebrities showed off their style on the lavender carpet, Hakimi teamed up with Nigerian singer, musician, and rapper Divine Ikubor professionally known as Rema.
This was not the first meeting between Rema and Hakimi. Last year, the Moroccan football star gifted the Nigerian musician his jersey on his visit to a Paris Saint-Germain Ligue 1 game.
Rema performed his hit single Calm Down to the crowd of celebrities at the award ceremony.
Hakimi wins award
At the award ceremony, Hakimi was voted the Best Male Athlete following his achievement in helping PSG to win the Ligue 1 title.
The award also recognizes Hakimi's role in being part of the Moroccan side that made history by getting to the semifinals of the 2022 FIFA World Cup in Qatar.
Hakimi took to the stage to receive the award with his mother. He thanked his teammates for club and country for their role in his accomplishments.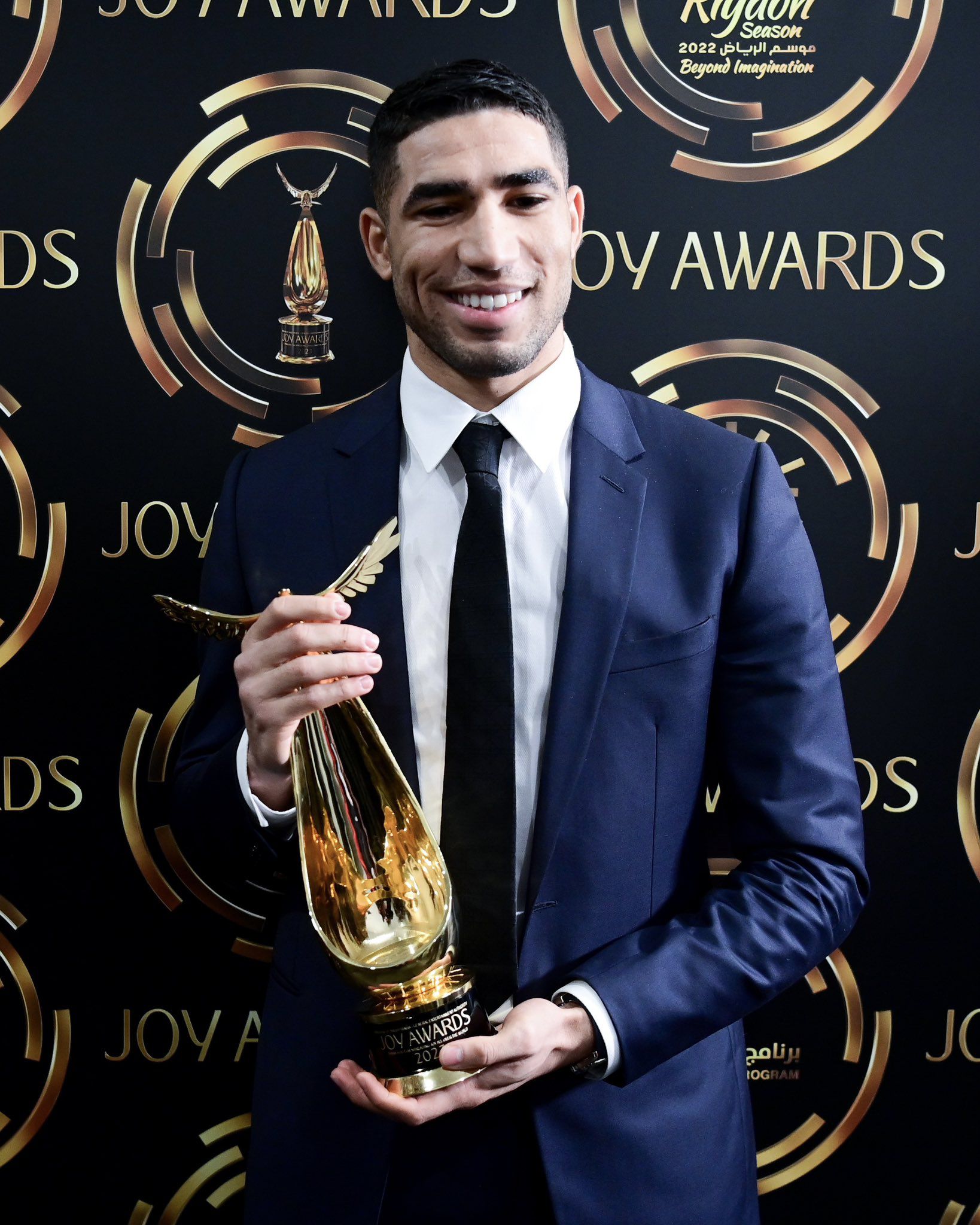 He said, "Salam Alikum, I want to say I am really happy to be here. This is a special country.
"I am really happy to be with my mom. It's a support for me. I also want to say thank my team Paris Saint Germain also my country, Morocco. Thank you for the support… I feel so proud to be here."
Hakimi then took to social media to post a photo with the award and a message that said, "An honor to receive this award and share it with my people ❤️ #JoyAwards."
The defender is now expected to return to France as PSG takes on Reims in their next league fixture scheduled for Sunday, January 29, 2023.