The Red Devils and Jose Mourinho's men have joined Arsenal in the Europa League round of 16 after winning their preliminary knockout games.
The Europa League round of 16 draw will take place today after the preliminary knockout games [round of 32] were concluded on Thursday.
The preliminary knockout round pitched teams that finished second in their groups against the eight third-placed teams that dropped into the competition from the Champions League.
Following the first and second legs, eight teams booked their place in the last 16.
The teams are
Juventus (ITA)
Leverkusen (GER)
Man United (ENG)
Roma (ITA)
Sevilla (ESP)
Shakhtar (UKR)
Sporting CP (POR)
Union Berlin (GER)
These eight teams will be drawn against the group stage winners in the round of 16. The Group stage winners are.
Arsenal (ENG)
Betis (ESP)
Fenerbahçe (TUR)
Ferencváros (HUN)
Feyenoord (NED)
Freiburg (GER)
Real Sociedad (ESP)
Union Saint-Gilloise (BEL)
With all the 16 teams known, who can face who?
All the knockout playoff round winners can face any of the group stage winners, but teams from the same association cannot face each other.
This means Arsenal cannot be drawn against Manchester United, while Real Sociedad and Real Betis cannot face Sevilla.
However, unlike the Champions League, group-stage opponents can face each other in the round of 16.
It means Sociedad can meet Manchester United, having met in the group stage. Jose Mourinho's Roma can also meet Betis even though they were group-stage opponents.
The same also applies to Royale Union Saint-Gilloise, who can meet their group-stage foe, Union Berlin.
When is the round of 16 games?
The round of 16 matches will take place on March 9 and 16, with the winners across the two legs progressing to the quarter-finals.
The Group winners are seeded and will play the first leg away from home before hosting the second leg at home.
Related content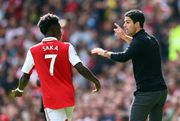 Arsenal will get to keep Saka for a while longer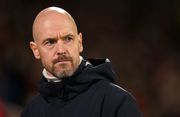 Manchester United manager Erik ten Hag has said the victory over Barcelona in the UEFA Europa League is his biggest win as the club's manager.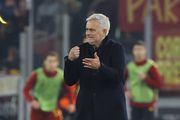 Mourinho's tactical change helped his Roma side beat RB Salzburg to progress to the Europa League round of 16.