Guardiola admitted to getting it wrong tactically in the first half and Man City produced a dominant second half display to defeat Arsenal 3-1 and silence a noisy Emirates crowd.
Manchester City's 3-1 victory over Arsenal last night was a game that had everything. Two managers who understand the game of football perfectly. Several narratives and two vastly different halves of football.
Pep Guardiola revealed after the game that he had to abandon his "horrible" first-half tactics to get the win.
"I tried something new and it was horrible. In the second half we were more like we are." Pep said.
Guardiola's confusing first-half tactics against Arsenal
Watching Manchester City play in recent weeks and trying to figure out Pep Guardiola's tactics has been a bit of a head scratcher.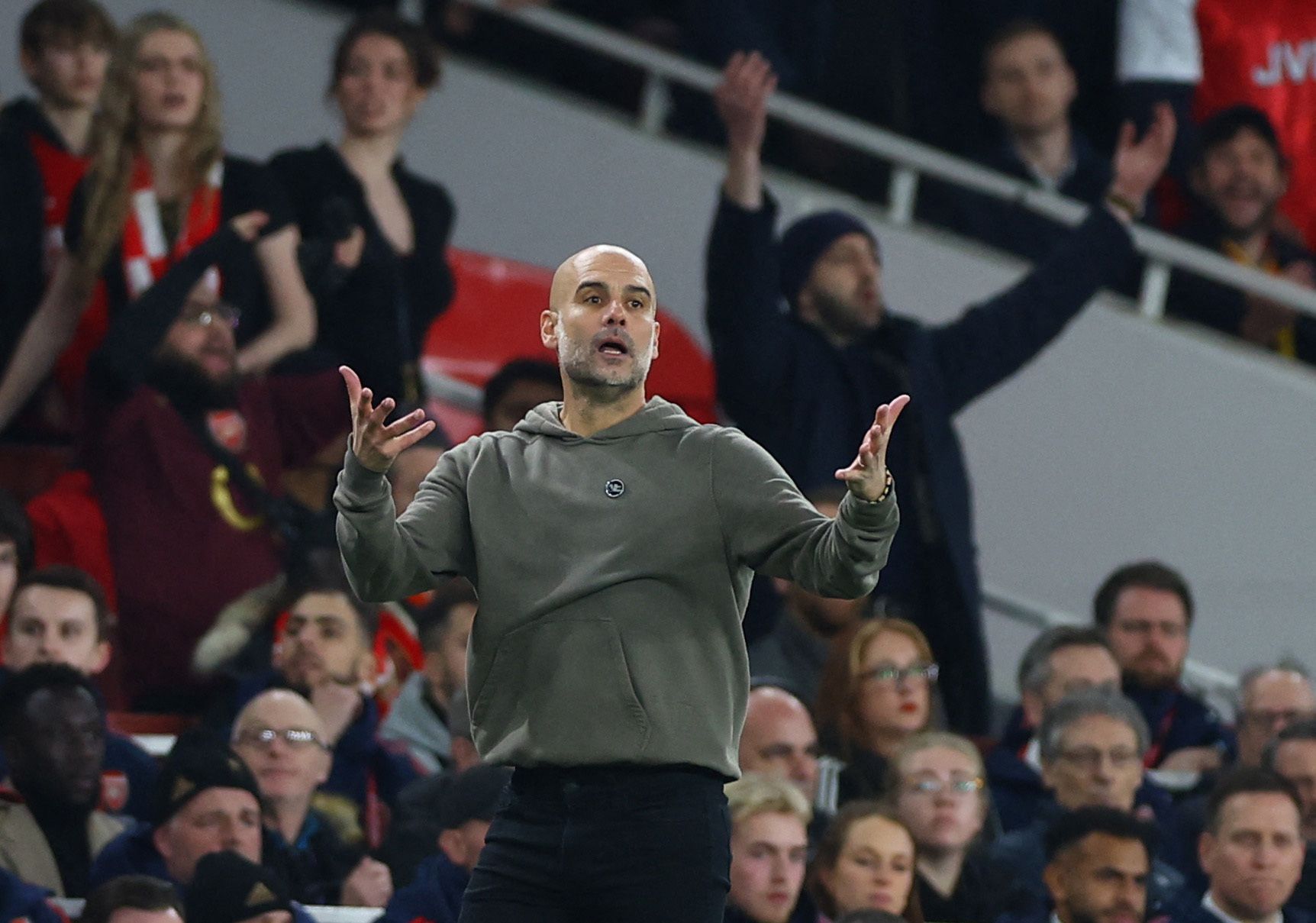 Pep has often been referred to as a manager who can sometimes overthink simple things. The easy decisions.
It is hard to question a man who has won 33 trophies in his 15 years as a manager. A man who created a monster Barcelona team that produced the most mesmerizing football many of us have ever seen. One of the greatest minds of the modern game and someone who may well go down as the greatest to ever coach the game of football.
However, there was general confusion at the sight of Bernardo Silva struggling at left-back against the rapid Bukayo Saka. One of Pep's stranger decisions on the night.
Guardiola deployed a 3-4-2-1 formation to start the game, with Bernardo Silva playing in a double pivot with Rodri when City had possession and as an auxiliary left-back when defending.
Bernardo Silva experiment a huge failure
It was a system City deployed in the weekend win over Aston Villa and while the result that day, a 3-1 routine win may have justified the manager's thinking, Villa's goal did come from a Silva mistake and some poor defending.
Throughout the first half, Arsenal attacked down City's left. Silva should have received a yellow card within the first 15 minutes. Two quick tackles on Saka immediately revealed an obvious area of weakness for Arsenal to exploit.
He eventually received a well deserved booking for once again bringing down Saka and at that point it became obvious something had to be done.
Players unfamiliar with new system
It became clear that a few City players had no idea what positions to take up. Another obvious flaw in Guardiola's chosen system on the night was how isolated Rodri was in the middle of the park.
Ilkay Gundogan and Kevin de Bruyne were deployed higher up the pitch in service of Erling Haaland and the Arsenal midfielders swarmed all over Rodri in the early stages of the first half.
City did open the scoring through De Bruyne after a careless back pass from Arsenal defender Tomiyasu, under pressure from Jack Grealish but Arsenal soon equalised thanks to the excellent Saka and finished the first half on top.
Pep's men were unable to deal with Saka's quick movement and dribbling throughout the first period and the Silva and Nathan Ake defensive combo seemed unable to slow his roll.
Second half improvement
The second half was a completely different ball game. Guardiola gave it just over 10 minutes to see how things progressed before introducing Manuel Akanji for the ineffective Riyad Mahrez and switching to a more familiar 4-3-3 system.
City instantly raised their level. Bernardo Silva moved forward to the right of Haaland and Grealish stayed out wide to provide an outlet.
De Bruyne and Gundogan moved closer to Rodri and City became more aggressive in and out of possession. The change in shape greatly aided their pressing and forced the Arsenal defence to drop even deeper.
Both of City's second half goals came from a perfect execution of the press and denying Arsenal space and time on the ball. City looked sharper and resembled a more cohesive attacking unit in that second period.
Haaland was more involved in the second half, executing layoffs, harrying defenders and making his presence felt. He was involved in the second City goal, laying off a square pass inside to Gundogan who left it for Grealish to fire home.
Haaland then put the icing on the cake with a fabulous take and finish from De Bruyne's cut-back pass. The two players continuing to enjoy such a natural connection on the pitch.
The increase in tempo was evident after the switch Guardiola made. City were passive in the first half but the second half was totally different.
Conclusion
Guardiola remains a tactical genius and has earned the right to switch and make alterations as he sees fit.
However, City look much better in a familiar system, one that doesn't require too much thinking and one where players know their roles.
Related content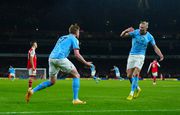 Pep Guardiola's men now have the edge in the title race after securing a stunning victory over Arsenal at the Emirates.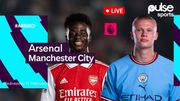 Hello, welcome to our live coverage of the Premier League showdown between Arsenal and Manchester City and the Uefa Champions League round of 16 first leg tie between Borussia Dortmund and Chelsea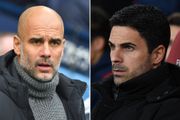 Pep Guardiola has told Arsenal they will need to fight to take the Premier League title from Manchester City ahead of their showdown on Wednesday night.