In an Exclusive with Pulse Sports, Patience Okon-George talked about being Nigeria's best female 400m runner in a decade and the present generation of young quartermilers.
Veteran Nigerian 400m runner Patience Okon-George bared it all in an Exclusive with Pulse Sports on her target for the 2023 season, retirement plans, and her disappointment of still being the best Nigerian quarter-miler in a decade.
The Cross-Rivers-based athlete has been Nigeria's 400m shining light since she made her international debut in the relays at the 2013 World Championships in Moscow and 400m appearance at the 2014 African Championships in Marrakesh, where she won an individual bronze medal and ran the first leg of the gold medal-winning 4x400m relay team.
Ever since, she has won several individual and relay medals at the African Championships, African Games, Commonwealth Games, and World Relays, been at the Olympic Games, and has competed at every major international championship, making her one of the best athletes to don the green and white colours of the country.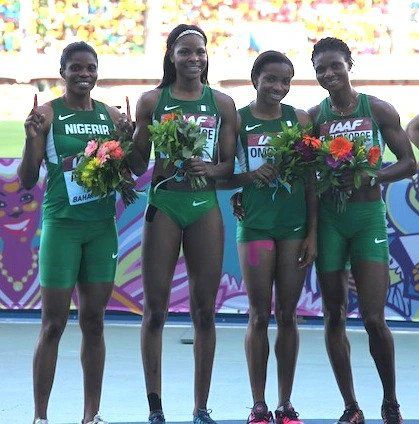 Now preparing for the 2023 season, during which she hopes to qualify for and compete at the World Championships in Budapest, the 31-year-old said her chances of retiring soon are slim as the present crop of 400m runners has not challenged her enough to retire.
"Anytime I'll retire, but right now, I've not really seen any young athlete coming up to challenge me. Like they're just very lazy, sorry to say it."
Why coaches have an important role to play in the solution
Okon-George says the solution to producing quality female 400m runners with long-lasting careers points to the coaches building the athlete's mental strengths.
"It's for the coaches of the young coming athletes, especially the quarter-milers to help the athletes by talking to them," she said.
"In 400m, you need to be sound mentally because if you're not sound, by the time the adrenaline sets in, it will weigh you down, and some of them immediately they see Patience Okon-George, they're out of the games already," George added.
"It shouldn't be like that because I'm a human being. It's not every day that one is in shape; I train like them too. So they should put more effort, especially talking to them that they can do it. That's why if I see them (younger athletes), I like talking to them that they can do it, I don't neglect them."
Okon-George said she doesn't mind if the athletes get close or take over from her, as it will even challenge her to train harder.
"I don't mind any of them taking over from me. My champion will not be forever. When you even have someone challenging you, it makes you train harder. In this situation where you don't have athletes, it makes you go down gradually. But if they have competitors, at least among themselves, they'll be able to push each other," she said.
Okon-George reiterated that fingers are crossed for her to participate at the Paris Olympic Games in 2024, which will be her third Olympic appearance after Rio 2016 and Tokyo 2022.
Plans of coaching after retirement
The multiple Nigerian champion plans to go into coaching after retirement, as she wants to coach her youngest daughter to the highest level of professional athletics.
"I plan to be a coach after retirement. My small daughter has already started training. It's just because of school that she can't come to some competitions. But anytime she's on holiday, I might bring her to competitions.
"I'll push her to the top, to the highest level. I'm starting her in my event (400m), so she can build up her mind and be mentally strong," George concluded.
Present pool of Nigerian female quarter-milers
Nigeria's present pool of best female quarter-milers apart from George are Imaobong Uko, Ella Onojuvwevwo, and Queen Usunobun, while Favour Ofili is more into the 100m and 200m.
Uko sped to national prominence when she caused perhaps the biggest upset in Nigerian athletics history by defeating George at the 2018 National Sports Festival as a 14-year-old and successfully defended the title in 2021.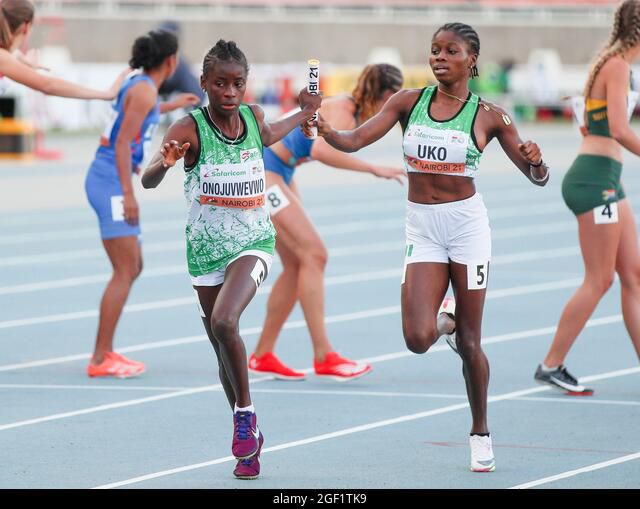 She is the only female athlete amongst this new crop of athletes to have defeated Okon-George twice within Nigeria; while Onojuvwevwo and Usunobun are also building up as challengers to take over from the veteran whenever she retires.